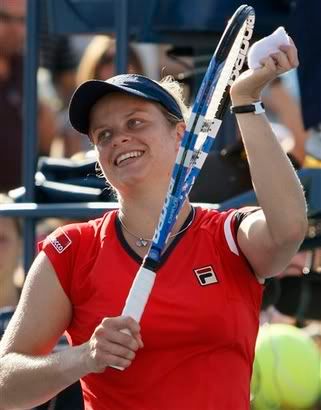 2009 US Open: Kim Clijsters beats Marion Bartoli to reach third round
Kim Clijsters upset Marion Bartoli 5-7 6-1 6-2 to reach the third round of the U.S. Open.
Clijsters' return has been impressive but she knows there are bigger hurdles to overcome.
"It was a nice feeling to have in Cincinnati and Toronto, knowing that I was capable of beating some of those top-ten players again," she said on Wednesday.
"So after those two tournaments, it was like, 'OK, I can beat those girls if I play well.' But I haven't played the big ones yet, Venus (Williams), Serena (Williams), (Maria) Sharapova, (Elena) Dementieva. I haven't played those girls yet. Hopefully I'll give myself a shot at doing that here." she said.
Clijsters did play both world number one Dinara Safina and number five Jelena Jankovic, in Cincinnati and Toronto, respectively.
Both times she came off second best but she showed enough to suggest that with a few more matches under her belt, she may be able to add to the one grand slam title she has won, the 2005 U.S. Open.
Before she can think of winning a second U.S. Open title, though, Clijsters faces another Belgian in Kirsten Flipkens.
"Especially at the start of the tournament, you don't focus on eventually winning the tournament," she said.
"My next match is against Kirsten Flipkens, which is going to be tough. That's all I'm going to focus on right now. I don't want to think too far ahead."
Photo Getty images
Source Reuters