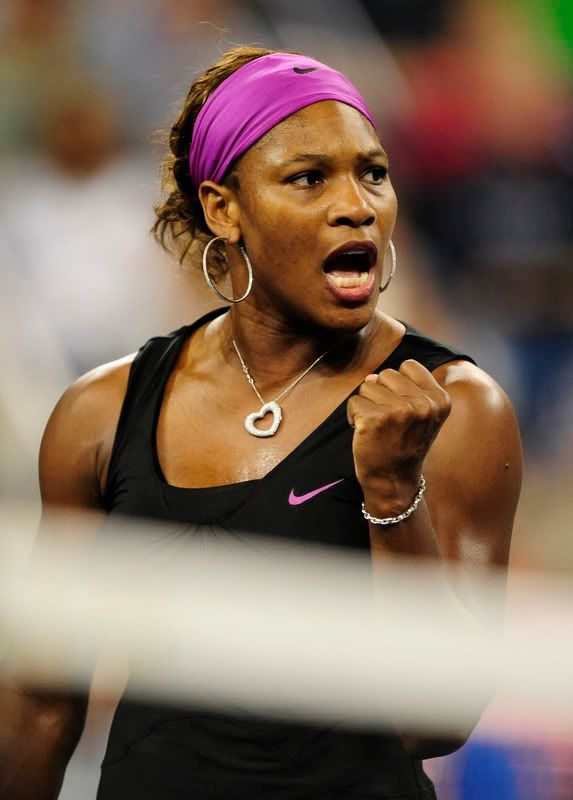 2009 US Open: Serena Williams joins Venus in 3rd round at US Open
Serena Williams reached the third round of the US Open 2009 after beating Melinda Czink 6-1, 6-1 in less than an hour.
Williams offered a new explanation for why she plays so much better at Grand Slam tournaments than other events.
"Maybe it pays more," she said with a smile. "I guess I'm trying to pay off my mortgage."
Williams played Czink last July, and things were much more competitive. Serena prevailed 6-3, 7-6.
Why was Wednesday's encounter so different?
"I definitely made adjustments," Williams said. "I knew her game better today."
This time Czink simply couldn't handle Williams' power, like a baseball hitter whose swing is too slow to get around on a fastball and keeps fouling off pitches.
That was illustrated on consecutive points early in the second set: First, one ball flew wildly off Czink's racket and soared wide and high, so off-track and so hard that it smacked the scorekeeping gizmo off the chair umpire's stand. Next, another ball went directly sideways, nearly into the noggin of a line judge.
Williams finished with an impressive ratio of 25 winners to only nine unforced errors.
About the only glitch for Williams came midway through the first set, when she thought she had pounded an ace. Instead, the serve was waved off by a line judge, who called a foot-fault.
Williams turned and glared, setting her hands on her hips. She just stood there with a straight face for a few seconds, staring down the official. When play resumed, Williams pushed a forehand into the net, then again sent a serious look in his direction.
And on the following point, Williams smacked an ace at 115 mph and looked over once more, as though to say, "Was my foot in the right place that time?!"
"I was kind of frustrated because I hit a great serve, best serve I hit in months. Yeah, I was just like, 'Ugh!"' Williams said.
Asked about the staredown, she said: "They do play that song, 'Straight out of Compton' when I walk out."
Source AP
Photo Getty Images