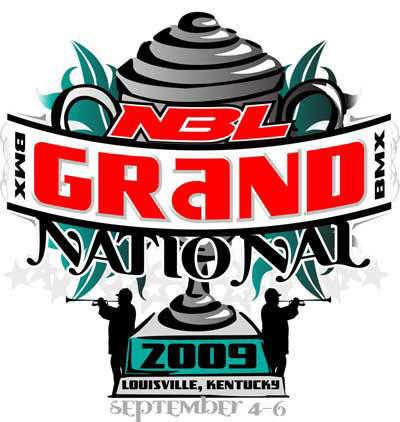 The 2009 NBL Grand National is scheduled to take place September 4th through the 6th at Derby City BMX in Louisville Kentucky. The track has been groomed and polished and awaits the top riders in BMX to showcase their skills and capture those coveted NBL National #1 plates. Pretty Tough's very own, Sarah Gross will be competing in the 13 girl division. Sarah is expected to place in the top 5 in the nation.
For those early birds, the weekend starts out with a bang on Wednesday (2nd) with the "Future Stars" Clinic kicking off at 3:00pm. Top Elite pros join the NBL to assist riders in their final preparation for the biggest event of the season. Thursday (3rd) is dawn-to-dusk paid practice with two scheduled practice sessions for each group. Free practice sessions begin on Friday (4th) morning with single sessions scheduled for all groups.
Highlights of the holiday weekend include Friday night's Last Chance Qualifier (start time 3:00pm) for the Elite Men and Women as well as Super-Ex and Masters. The UGP Open will run in conjunction with the Elite L.C.Q., and puts up over $4,000 in prizes for those qualified Amateurs.
Opening ceremonies begin at 7:30am on Saturday (5th), with the "Grand Daddy" of all BMX races dropping the gate for amateurs at 8:00am. Amateurs will complete the first two rounds on Saturday. Check out your favorite Elite riders on Saturday at the NBL autograph session scheduled for 2:00pm.
Saturday afternoon (4:30pm) is the Big One, the NBL Elite Championship. Elite riders from across the country and around the world will compete for NBL Elite titles. There will be plenty of action with three full rounds of motos, followed up with qualifying rounds and the mains. The Elite Championship podium is scheduled for 7:00pm Saturday evening with awards for the Championship race and Year-End awards.
Sunday continues on with the third round of amateur racing action starting at 8:00am and continuing through the final gate drops in the mains.
-Valerie Keyser