My dear Twitter friend and fellow Boston hockey blogger @cameronfrye and I had the opportunity to attend and cover WBCN and Aaron Ward's Cuts for a Cure event on Wednesday afternoon. While she is the far better photographer than I – it helps that she has the souped up, newer version of my trusty ol' Kodak – I tried my best to snap some interesting photos myself of the Boston Bruins players who offered their locks up for shearing by the highest bidder.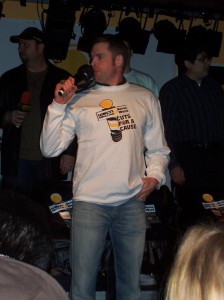 The always stylish Aaron Ward welcomes everyone to his fundraiser.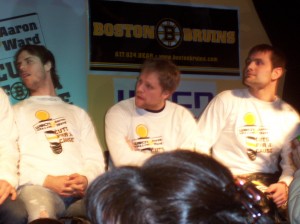 Phil Kessel wonders what is in store for him as he prepares to get his hair shaved off.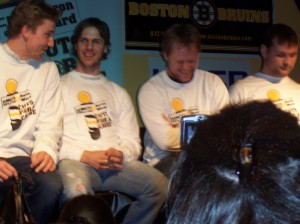 Lucic, Blake Wheeler, and Phil Kessel wonder what the heck they got themselves into.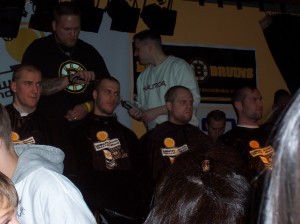 This is what they got themselves into. Don't they look just so pleased.