I can't help but think that this might just be the year that we actually do it.
As a former player for The College of New Jersey (TCNJ), for as long as I can remember, my teammates and I dreamed of winning the New Jersey Athletic Conference (NJAC) and advancing our way through the NCAA tournament to make it to the final four.
Yes, we had heart… and plenty of determination. But every game was a challenge, as we couldn't seem to put together the right combination of strategy, speed, shooting and domination in the post. Sure, we won our conference, but we never saw any action beyond the first round of the tourament.
This year, they're actually doing it, and I'm so proud.
I'm thrilled to announce that The College of New Jersey women's basketball team defeated ninth-ranked University of Rochester last night to advance to the elite eight of the NCAA division III championships.
For those of you who haven't followed division III basketball, now's a good time to start.
The only difference between division I is that the division III girls don't get scholarships. They play on their own will, on their own time. Most take out student loans to get through school, they can't skip classes for practice and they are responsible for making up their own work (no special tutors or treatment).
In division III, the seniors' basketball careers likely won't continue after the next few games. They've been playing basketball competitively their entire lives, so you can imagine there's a great deal of passion involved at this point of the season.
Right now, these schools are on spring break. So instead of screaming student sections, there are tight-knit bunches of friends and family who have driven hours to see this. Friends and siblings have made signs and t-shirts and parents are decked out in their finest institutional "TCNJ parent" sweatshirt.
These fans are quite different than what you see in the division I finals, as they've supported these girls since day 1, so any win or loss in this tournament is just as much theirs as it is the players'.
That's why last night's win was an exciting one for the small Liberal Arts school from the Trenton, NJ area who is known more for their outstanding academics than for their athletic achievement.
The game was led by their dynamic duo in the paint – 6?3 Hillary Klimowicz (one of my best friends) and 6?2 Alex Gregorek, mixed in with some extra great shooting from point guard Nicole Diaz.
From TCNJ's Web site:
"The Lions were led by the inside tandem of senior Hillary Klimowicz (Scotch Plains, NJ/Scotch Plains-Fanwood) and junior Alexandra Gregorek (Mahwah, NJ/Academy of Holy Angels) as the duo combined for 33 points. Klimowicz led the way with 19 points with Gregorek adding 14. The team also got plenty of support on the perimeter as senior Nicole Diaz (Egg Harbor Township, NJ/Egg Harbor Township) as she netted a career-high 14 points."
If you take a look at the 2009 Final Four Preview from D3Hoops.com, you can see that TCNJ was placed in the "Rochester Bracket," with Rochester picked to win this division over Scranton "regardless of location."
Looks like the cinderella story proved them wrong, as not only did TCNJ eliminate Rochester from the picture, but they did so on Rocherster's home court (where they have never lost an NCAA game).
I just got off the phone with Hillary – she's VERY excited for tonight's game. They play the University of Scranton at 7pm EST tonight (not much of a rest).
Scranton is 26-4 on the season. They're just coming off of a solid win, beating New York University 50-46. Scranton as notoriously been excellent in the women's basketball scene, so this will be a tough game for TCNJ. However, TCNJ has plenty of momentum, as they have won 23 out of their last 24 games (amazing).
Here's a picture of the bracket (click on it to go to the interactive version from NCAA – it's cool):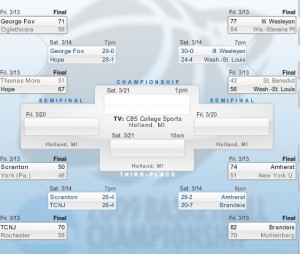 The game will be broadcast live from D3Hoops.com at 7pm EST. I'll be online watching it. Will you?