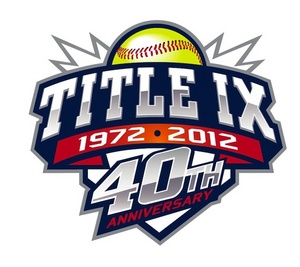 AKRON, Ohio –The Akron Racers unveiled plans today for a historic Title IX celebration on June 23 – the 40th anniversary of the signing of the Title IX legislation by then President, Richard Nixon.
Title IX states that "no person in the United States shall, on the basis of sex, be excluded from participation in, be denied the benefits of, or be subjected to discrimination under any educational program or activity receiving Federal financial assistance" While the specific legislation does not mention sports directly, the impact of Title IX has been most felt in the sports community.
On Saturday, June 23, the Akron Racers will honor 40 publicly nominated female fastpitch players, coaches and administrators on the field, prior to the start of the ballgame. Nominees will be collected through a partnership with the Akron Beacon Journal as well as Ohio.com and the Racers website, www.akronracers.org. Nomination forms can be downloaded here.
"I could not let this day go by without reflecting on the enormous success of fastpitch softball in Northeast Ohio," said Akron Racers President/GM Joey Arrietta. "History will mark the day but the honorees will tell the story."
A committee chaired by Scott Scalf will work to narrow the nominations down to 40 honorees. Sponsorship opportunities for the 40 honorees and other aspects of the "Title IX 40th Anniversary Celebration" night are available through the Akron Racers.
The Racers will be hosting a pre-game party for all 40 nominees and their families on June 23, with the honoring ceremony scheduled to begin at 5 p.m. Each honoree will be asked to bring a youth softball player to show a past-future type lineage during the ceremony.
First pitch is scheduled for 7:05 p.m. on Saturday, June 23. Tickets are now available to be part of this historic night at Firestone Stadium and can be purchased by contacting the Racers at 330-376-8188.
About the Akron Racers: The Akron Racers, headquartered in Akron, OH, are the oldest existing team in the National Pro Fastpitch (NPF) league. The Racers competed in the Women's Pro Softball League (WPSL) for two seasons in 1999 and 2000 and in the NPF since 2004. Historic Firestone Stadium is home to the Racers and numerous amateur events at all levels of play. The Racers kick-off their 11th season of play in 2012. www.akronracers.org
About National Pro Fastpitch: National Pro Fastpitch is headquartered in Nashville, TN. The league, created to give elite female fastpitch players the opportunity to pursue a professional career in their chosen sport, has operated since 1997 under the names of Women's Pro Fastpitch (WPF) and Women's Pro Softball League (WPSL). NPF is the Official Development Partner of Major League Baseball in the category of women's fastpitch softball since 2002. www.profastpitch.com