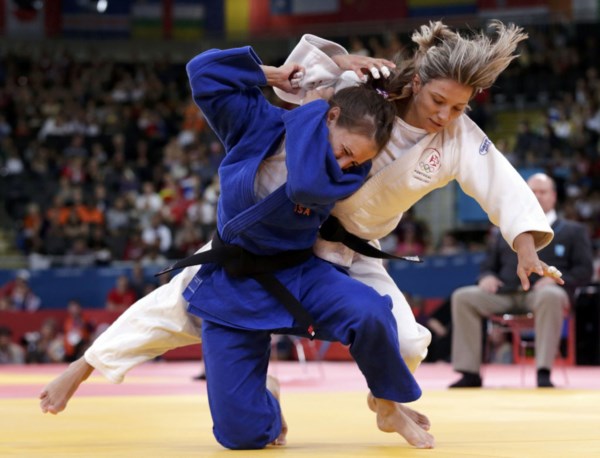 Malloy (Blue) defeating Monteiro (White) Courtesy Publico.pt
Ronda Rousey now has some company.
On Monday, 57 kg (125 pounds) Judoka Marti Malloy has become the second American woman to medal in judo. The 26 year old started out the day defeating the #2 ranked judoka in her weight class, Telma Monteiro of Portugal. After a close quarter final win over Russia's Irina Zabludina, she stumbled in the semi-final with eventual silver medalist Corina Caprioriu of Romania. Malloy would win her bronze in dramatic fashion, getting the throw to win the match.
Japan's Kaori Matsumoto would take the gold, while France's Automne Pavia would take the other bronze.
Fellow American judoka Kayla Harrsion will try to win a medla of her own Thursday in the 78 kg (172 pounds) division.
In Sunday's results in the 52 kg (114 pound) division, North Korea's AN Kum Ae took home the Gold; with Cuba's Yanet Bermoy Acosta taking Silver. Italy's Rosalba Forciniti and France's Priscilla Gneto.
Tuesday will feature the 63 kg division, and will be streamed on NBCOlympics.com/LiveExtra.
Filed under: BJJ/Wrestling