The Stanford Women's Basketball team traveled across the Bay Tuesday to Haas Pavilion to take on Cal. By a quirk of the schedule, Cal will return the favor at Maples on Sunday. Both coaches will be studying this game to get ready for the next. Let's look at what the teams did, and did not, do well.
Things Stanford did well:
When Stanford's Chiney Ogwumike was double teamed, people cut to the basket and made themselves available for a pass. A memorable play was Toni Kokenis cutting weakside and was wide open and Chiney got her the ball where she could score.
Things Stanford did not do well:
When Chiney was double teamed, people stood around and did not cut to the basket. In one replay (and thanks to the Pac-12 Channel for televising) four, count 'em four white-jerseyed players were on Chiney and not one black jersey cut to the basket or got in a passing lane to help her. She Shot off balance and missed. Stanford did this against UConn with disastrous results.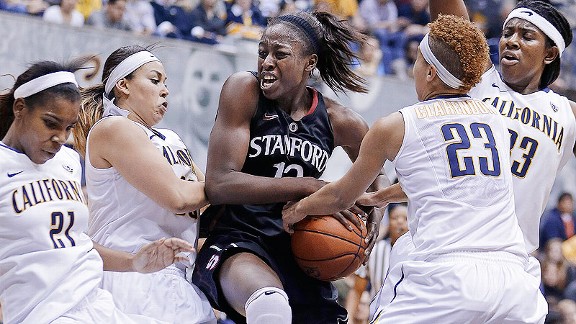 Chiney Ogwumike gets quadrupled-teamed (AP Photo/Ben Margot)Things Cal did not do well:
Shoot the three. They were 2-21, or 9% completion rate. So they were good at taking the three, it was the making part they had trouble with.
Things Stanford did not do well:
Shoot the three. They were 0-8. Guess they stopped trying after missing so many. Stanford's completion rate was 0%, and you don't have to be Stanford grad to know 9% is better than none.
Things Cal did well:
Rebound
Thing Stanford did not do well:
Rebound
Cal won the rebounding battle 45-31, and was 21-5 on the offensive end. Cal scored 22 points off of second (and third) chances. Yikes.
Things Cal did well:
They drove to the basket to try to score or draw contact and a foul. And if they missed, they seemed to always get the rebound (see rebounds, above). They were very good at these two things, the driving in and the rebounding. They were very good for 3 /4 of the game, and then they stopped driving in. They weren't making threes, so they stopped driving in and therefore could not get a rebound on an un-taken shot. C and R are sure Cal Coach Lindsey Gottleib is going to look at the game film and not make that mistake twice when they meet less than a week later on Sunday.
Things Cal should have done well:
So Cal breaks out their new and improved vaulted press. They get a steal and a basket, and then don't try it again for 10 whole minutes (Not sure how many minutes between, but why not press every time?) Well, when they did press again, Stanford easily passed to the half court line, and unlike the UConn game, they took the ball straight to the basket without waiting for the defense to catch up. The result an easy lay up. Now Cal is 1-1 on the press. But they stop trying it until the final minute. C and R are still scratching their heads about that decision. And will Gottleib rethink that for Sunday?
Things Stanford did well:
Their defense held Cal to zero baskets in 9 minutes, really 11 minutes (think Cal got one point off of a free throw in there). This started around the 13-minute mark until the 2 and a half minute mark, and broke the game open. Stanford won 62-51. The game was a seesaw, back and forth affair before that Cal drought. Was it Cal not sticking to their game plan or Stanford's really tough defense? Maybe a little of both.
Things Stanford did not do well:
Run their offense. We still don't understand their very static and predictable offense, where one person seems to move at a time. And when there was a shot, not many rebounders, or even no one at all to rebound (see rebounds, above).
Things Stanford did well:
Stanford guard Amber Orrrrange driving in and pulling up for jumpers was very timely. She did that extremely well to the tune of 15 points. Guard Toni Kokenis, back after an unspecified illness, also did this to a lesser degree and contributed seven points. Chiney scored 26 points on 11-16 shooting, but for the second game in a row, did not rebound well, getting six. Could it be teams are more hyper-focused in her and vehemently boxing her out, and boxing her out well? Probably. Tinkle scored eight with only four rebounds, and she needs to step up both if other teams are going to be keying on Chiney and if Stanford wants to be successful in the long run.
Okay, when putting pen to paper (or computer to…bytes?) most writers will try to think, was there one play that broke open the game? And sometimes you can't really point to one definite moment that turned the game. And sometimes you can. For this game, the pivotal moment came when Stanford had the ball out of bounds at the half court line and two seconds on the shot clock.
Now, last year, whenever the shot clock was three seconds or under and the ball was out of bounds under their basket, Stanford had this standing play where Nneka Ogwumike would shuffle around the key looking like she was lost and as soon as the ball was handed to the out of bounds person, she would whip her body around and the ball would be lobbed in the air to her position and she would jump, catch, and shot all in one motion without touching the ground. There only about one other player in women's college ball who can do that, and her name is Chiney Ogwumike.
So what do you do when Nneka's not available or say, graduates? Why, you go to Chiney. Except, the ball was not out of bounds under the basket. It was 40 feet away from the basket. So Jos Tinkle grabs the ball and HEAVES it towards the Stanford basket. It probably was supposed to be a lob to Chiney but it hits the backboard. It banks off the backboard hard to a waiting Chiney. Three Cal players are surrounding her but are so stunned they barely get their hands up a when she catches it and takes it to the basket. The lay up goes in AND she gets the foul call (Although she missed the free throw, and mark that down under things Stanford did not do well as a team, going 10-18 from the free throw line). Still. That quirky, risky play broke Cal's spirit. Plus, Cal had just missed an easy lap up in transition. So, yeah, that was the turning point. That probably won't happen on Sunday… or ever. Stanford head coach Tara Van Derveer confirmed that when after the game she said, "that one was a lucky play" and "let's be honest, we didn't diagram that one."
Stanford extended their Pac-12 streak to 81 games. Can they make it 82? It will be a rare opportunity to see how each coach responds to the game just played when the two teams meet on Sunday.
Follow C and R on Facebook and Twitter, for Battle of the Bay Part II, too!
.See the original post at C and R's Stanford Women's Basketball Blog http://womenssportsinformation.com/blog.html