Now that was a championship game.
Tuesday night, Texas A&M won it's first women's basketball national title, defeating Notre Dame, 76-70, in a game that feature ties, lead changes and momentum swings. It featured the Aggies taking a 13-point first half lead as Notre Dame worked its nerves out. The Irish came back to take a halftime lead. And the entire game was just good, entertaining basketball, just the right product to showcase the sport in front of a national audience.
Personally, I refuse to compare the men's national championship (which by basketball standards was, um, boring) to the women's national championship. Plenty of others will do that. But for so long women's basketball's position as the lesser of the two games was reinforced by comparison to the men's game, that celebrating the women's game because the mens' game was so bad, well, just smacks of hypocrisy. I live plenty of inconsistencies in my life already. I don't need to add this.
Instead, let's let the women's game stand on its own. For better or worse.
Comparisons and performance aside, what struck me most while watching the broadcast on ESPN was a line from color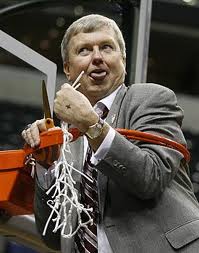 Texas A&M Coach Gary Blair
commentator Doris Burke. She noted that Texas A&M coach Gary Blair began coaching girls high school basketball in 1973. "He was coaching girls and women's basketball before it was fashionable," Burke said.
First off, it highlights one of the storylines of the Aggies' run – Blair, at 65, is the oldest coach to win a women's basketball championship. He began coaching the year after Title IX was passed (and the year I was born) and has been a promoter of women's basketball for nearly 38 years. From what little I know of Blair, he seems to be a cool guy who knows and loves the game. Mechelle Voeple described him as a "showman who also has substance." And as I get older myself, I can't help but celebrate the guy (or gal) who has been dutifully in the trenches for years finally winning the big payday.
Also, I can't help but but like a guy who has been supporting female athletes for more than three decades. The status of women in the workplace has been discussed in recent weeks as the Supreme Court debates a class action lawsuit brought against WalMart by female employees. And part of the discussion inevitably deals with women in positions of power.
On the one hand, it's nice to see women succeed as basketball coaches and administrators. It is important, even vital, for young women to see people like them in positions of power. On the other hand, what can get lost are the men who support, encourage and nurture women's talent – on the basketball court, in the classroom and in business. Symbols are important. So too is judging each individual case on its own merits.
The women's championship game in 2011? Awesome basketball. Head coach Gary Blair? Completely deserving of the win.
Have you entered the inaugural giveaway from Byline to Finish Line? Describe how your athletic activity of choice helps to soothe your soul in the