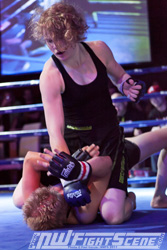 Oregon's Emily Corso has had a successful amateur career so far, finishing all but one of her opponents. This weekend she will return to the Rumble at the Roseland cage to gain the FCFF flyweight title against Emily Whitmire.
We talked to Corso about her amateur career, and the women's MMA scene in Oregon.
—-
Wombat Sports: How did you get started in fighting?
Emily Corso: I took a self-defense class while I was at Reed College. The techniques (taught by Bill Bradley, owner of Alive MMA, where I've been training for 2.5 years) were based in jiu jitsu, which I completely fell in love with. Five years later I'm now teaching self-defense and pursuing the Women's 125lb FCFF Title.
Wombat: You have been able to finish off all but one opponent as an amateur. Do you feel you are close to turning pro, or is there still things you want to learn?
Corso: Notably, the one loss was by decision, and all of my wins were by submission or TKO. That aside, I do plan to go pro eventually, but it probably wont be soon. I have a lot to learn and there are still girls to fight in the amateur scene, so I want to see what I can do with this first. MMA is a sport after all, and I'm really enjoying myself.
W.S.: Oregon has been a hotbed of talented fighters in all divisions. What does it mean to you to be fighting there?
E.C.: We have so many talented fighters in this state and I've been extremely lucky to have access to many of them as incredible coaches and training partners. It's also great to be in an area where the sport is pretty popular because the Northwest has a decent number of female fighters. Depth in a bracket makes for much better fighters, so even though female MMA is generally underpopulated this is still a better area for it than most. And it is worlds better than the small town in Alaska where I grew up, which has no MMA scene at all (or anything else, for that matter).
W.S.: What do you know about your opponent?
E.C.: Emily Whitmire has been in the scene longer than I have… I remember hearing about "the other Emily" before I even thought about taking a fight. She's 2-3, so her record doesn't look great, but her losses were all to very tough, very skilled fighters, including my teammate Robin Woods (who is absolutely a force to be reckoned with). She identifies as a "grapplerette", but is known for dropping bombs with her fists, so I expect a pretty balanced match. (Also, I've met her several times and she seems genuinely sweet– that wont stop me even a little bit from doing as much damage to her as possible, but it's good to know that at the end of the day she's a real person too.)
W.S.: Anyone you'd like to thank?
E.C.: I am utterly grateful to my coaches (especially Nick Gilardi– he goes WAY beyond the call of duty to help me and the team), teammates, and sponsors (including Dirty Boxer, Max Muscle, and Rufus KO). I have a truly excellent support network.
Filed under: MMA