"Are you cold?" Mark asked me, noting the appearance of goose bumps on my arm.
"I'm cute," was my response.
Granted, that wasn't exactly an answer to his question, but he earns point for appropriate laughter coupled with understanding my meaning. Sometimes, there's a bit of suffering for fashion, particularly if you're a woman.
A fashionista I am not, but Friday night I put on a new party dress and styled my hair and makeup for my triathlon club's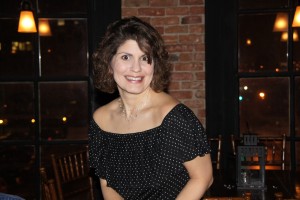 annual banquet. Through the power of Facebook I learned that many of the women in attendance would be wearing skinny jeans and sweaters. With my off-the-shoulder dress from White House/Black Market, there was great potential to arrive overdressed. There was an internal debate and a text message discussion with several girlfriends before I came to a powerful decision.
Screw it.
On this particular occasion, I felt like being girlie. It felt fun and different and authentic. Others could dress however they wanted – a dress, nice pants, skinny jeans, sweat pants. It wasn't about what they were wearing. It was about how I would feel about what I was wearing. It was about image and identity and feeling comfortable and confident to play with both in ways which made me happy.
And this notion of playing with image and identity – of the girlie and the athletic – got me thinking as women's sports teams and leagues across the country gear up for National Girls and Women in Sports Day.
What does a female athlete look like? What should a female athlete look like?
There are fascinating and important debates about the image and representation of women athletes in the current media culture. Are female athletes pandering when they pose provocatively in men's magazines and in advertising campaigns? Or is there greater value in their sense of personal empowerment? Then again, is their personal empowerment hurting the collective of female athletes?
Recently, I heard an interview with social historian Stephanie Coontz about the seminal feminist work, "The Feminine Mystique." Asked if there was any resonance with that book in today's world, Coontz said currently there is a "Hottie Mystique" – a woman can do anything she wants, including play sports, as long as she looks hot doing it.
Therein lies my problem with image and athletes. Often, the image is limiting. There becomes only one way to be an acceptable female athlete. And my fear is that girls and women shy away from participating in sports, from leading an active lifestyle, because the model image can be daunting.
What I have learned through my own athletic journey is that there is no one way to "look" like an athlete. Indeed, there is no one way to "look" through life. Some days, it's about comfort. Other days it's about fashion, fun and style. Still other days it's about projecting a certain image – professional, sporty, professorial.
On Friday, I embraced a girlie identity. On Saturday, it was back to ill-fitting jeans and the faint smell of chlorine while Sunday was business casual. My identity is fluid, not fixed. It is ever-changing. It is something I get to choose for myself, creating a new canvas on which to seek and embrace opportunities.