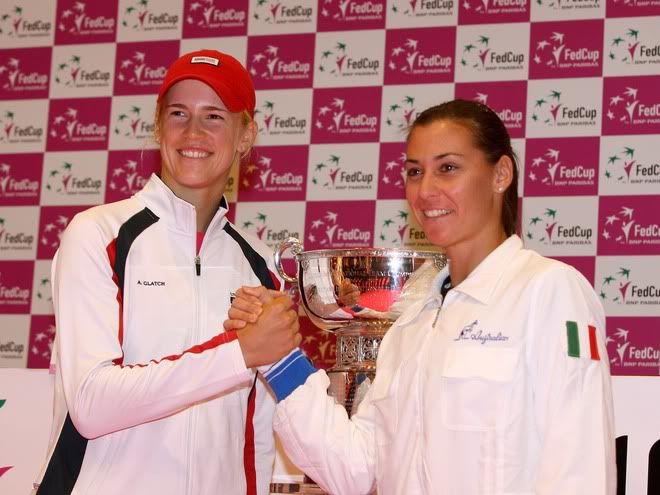 Fed Cup Final: Alexa Glatch to open against Flavia Pennetta
Alexa Glatch will face Flavia Pennetta in the first match of the Fed Cup final in Italy on Saturday.
Glatch beat Pennetta 6-1, 6-1 in their only previous meeting in the first round of the 2009 French Open.
"I've played her once before, it didn't go well, it could have gone better. It was difficult but this time I will be more decisive and play with a clear idea of my gameplan. I'm prepared for tomorrow and the fact that I played her before doesn't enter into it." said Falvia Penneta.
Francesca Schiavone will meet Melanie Oudin in the second singles match.
Schiavone and Oudin have also met once before, with Schiavone winning 6-1, 6-1 in Indian Wells last year.
"Last time I played Schiavone was like three years ago at Indian Wells. That means I was only 15. She was very experienced and she handled me pretty easily," said Oudin.
"But I think I've improved a lot since then. She's been playing amazing as well. We've both had good years, so I think it's gonna be a really good match tomorrow."
Schiavone certainly isn't expecting things to be easy.
"She's improved, she's young. We're prepared, I'll try to use my experience, my conditioning and my game to come out on top."
Reverse singles are set for Sunday, plus a possible decisive doubles match featuring Italy's Sara Errani and Roberta Vinci against Liezel Huber and Vania King.
The USA will not have their top player, Serena and Venus Williams, that's way their captain Mary Joe Fernandez thinks all the pressure is on Italy.
"I always think the home country feels the pressure a lot more. In a final, there's an added dimension," said Fernandez.
"I think when you play for your country, it's a different sort of tension, (a different) sort of nerves. It's hard to describe, but you definitely feel it a lot more. Even though we're the underdogs, we'll feel it too. There's definitely pressure on both sides. But from experience, when you're at home and you're the favorites, it definitely adds to it." she added.
Italian coach Corrado Barazzutti said his players would simply have to be more focused.
"We understand that this match is different because we are the favourites, because of this we have to play with more attention," he said.
"We must be focused on this match and play with a lot of concentration. Just focus on this match and try to play the best we possibly can, there's no other way."
Source Yahoo/AFP
Photo by Phil Cole/Getty Images