There is a specific moment which to me connotes the beginning of the holiday season. It's when Santa appears at the end of the Macy's Thanksgiving Day Parade. Maybe I've bought into decades of advertising campaigns designed to get me thinking about department stores, shopping and gift giving. I, on the other hand, would like to think of myself as old school. At least when it comes to ushering in things like Christmas music.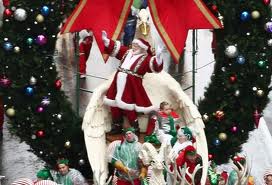 But it is Thanksgiving week and the hectic holiday season begins whether Santa has made his parade entrance yet or not. Work is busy, family is calling and there's shopping and baking all the once-a-year things I really would like to do. Holiday stress has become the disorder of the day, and I'm not immune to falling into that trap of being overwhelmed.
Before the holiday season gets away from me, I've decided to think about what it is I want this holiday season. What I truly want. This is not just another to-do list, this is a way to approach the holiday season, to enjoy it more and stress less and to live my values of being healthy, active and connected. Here are some of the ways I've thought about keeping my spirit of the holidays alive:
Take nothing personally. I won't play the "I sent you a card so why didn't you send me a card" game this year. I won't worry that I didn't get someone a present if they got me one and I won't be offended with the reverse. I will leave the obligations behind. It might feel a bit uncomfortable at first, but discomfort, I know, is a sign of growth. (Just ask my interval workouts!)
Shop locally. This is my contribution to the Occupy movement. Some online deals are just too good to pass up, but the majority of my shopping will be at local stores. There are many creative people in my region. I want them to succeed. Plus, it allows me to be more thoughtful and creative with my gifts rather than buying just to get out of the mall or in an online last-minute panic.
Enjoy holiday treats. I will eat holiday cookies, cakes and pies. I will sip adult beverages and order the holiday-flavored inspired coffee concoction. The key is not to eat the entire tray of cookies or have several pieces of pie for breakfast. The more I deny myself, the more I set myself up for a binge. A corollary to this: Ditch the guilt. If I eat too much with family and friends, I'll do better at my very next meal. This is not a zero-sum game.
Stock my kitchen. The key to not eating an entire plate of holiday cookies is to make sure I have healthy food easily available at home. I've stocking up on frozen vegetables, whole grain pastas, rice and beans which come together for easy dinners. Quick snacks like nuts and dried fruit also help when my eating schedule is out of whack.
Do a race. You don't have to be in it to win it. There are plenty of holiday-themed races around which can keep you moving and motivated. I'm committed to the Turkey Trot this year but likely will sneak in another 5K in December for fun. The run relieves stress, makes me feel good and also provides a great way to meet up with friends and family.
Finally, if you're in Western New York, join me for a workshop to kick off 2012 on a good note. I'll be presenting Lessons from My Inner Athlete at the Roycroft Campus on Saturday, Jan. 14. Learn techniques to set goals, focus and tap into your mind-body connection to kickstart another year of healthy living! Details and registration are on the Roycroft Campus website.