There are times when I forget that I've done an Ironman. Every once in a while, when my brain gets caught in a swirl of activity and pulled by forces of negativity and doubt, someone close to me will say, "Um, Amy. You can handle this. You've done an Ironman."
Oh, you're right. I temporarily forgot. That was kinda cool, wasn't it?
People who have competed their entire lives may apply the lessons they learn from their athletic endeavors to their daily lives with such ease that it's second nature. But this has been a learned process for me. Sure training and competing help keep me healthy in mind, body and spirit. More than that, however, training and racing has given me a well of experience and personal metaphors. It has taught me new perspectives and helped me create new ways to respond the craziness that life can dish out.
On this morning's seven-mile run, I thought of some of the strengths I've developed through my endurance training, life lessons which seem important to me now: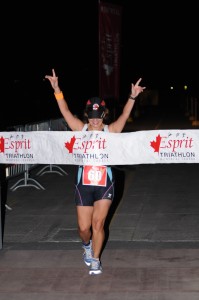 Finishing the Iron Distance at Montreal was about more than just one race.
There is no time for negativity. This theme comes up again and again. What we think about grows and ultimately becomes our reality. Thinking negative thoughts only brings more negativity into my day. Sometimes, it's work to find the positive. But it's always there. Which leads nicely to the next lesson:
Look for the gift. In every situation, there is some gift from the universe, even if the situation is difficult or frustrating or sad. Some days, it's a challenge to find the hidden gift. But it's there.
I can do more than I think I can. There are days when I still amaze myself during workouts or races. Did I really just run that interval set? Did I just say I enjoyed the swim? Did I really just set a PR? I am strong and capable. I already possess all that I need to succeed.
Intention counts. Come to the workout with a good attitude and an open heart. Focus on the possibility, not the outcome or the perceived obstacles.
Focus on what's here. That last mile I just ran? It's over with. I can't go back and run it differently. That steep hill that's coming up a few miles down the road? I can't climb it now. I have to wait until I get there. All I can do is address the situation in front of me. And frankly, that is all that is required of me.
The beautiful thing is that you don't need to do an Ironman to gain valuable experiences which help anchor you in other areas of your life. What is your joy and passion? What do you love to do? Odds are, you find joy and success in those endeavors because you're living your best truths. And once you identify what's true for you, the rest of the craziness starts to become more manageable.
Don't forget, this months giveaway of great Gilden Tree body products! Comment on this week's post on pampering for a chance to win! (The winner will be picked randomly.) So tell us, how do you find ways to pamper yourself?