Let's start with my shorts. They are my favorite running shorts – dark blue with a great liner, good fit and good track record for keeping me cool. I should know the brand name, but alas, I don't. I only know I bought them in the St. Bonaventure University bookstore and I like them. On Sunday, it took all of 15 minutes for them to become completely soaked in my own sweat as I went off on a long run, such was the level of humidity at 6:30 in the morning. I focused on the distance, on getting through a hard workout, instead of on things like my average pace and sopping wet shorts. Putting in the effort and having the right attitude have to count for something, correct?
My vacation began with a trip to Binghamton to visit my brother, sister-in-law and (most importantly) my niece, Ellie. To keep my life simple, I went to the campus of Binghamton University to click off my 15-miles, doing some creative loops and adding in a lap or two on the track just to break things up and give my body a rest from the complete and total hills of the campus roads. (Seriously, no part of this campus if flat.)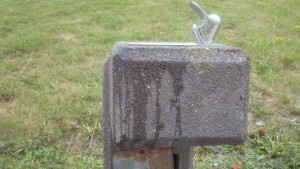 I *heart* this water fountain. For real.
By the time I hit the second half of my run, it looked as if I had gone through a sprinkler such was my level of sweat. I was careful to keep hydrated and would like to take this opportunity to sing the praises of the public water fountain, particularly the one located near the Binghamton University track. I loved this water fountain so much, I took a picture of it. For real. The water wasn't ice cold, but it was cool and had strong pressure to leap out of the spout. I wonder if public water fountains are going the way of the public pay phone – since everyone carries around their own mobile phone or bottle of water, no need to provide the public service. As a runner, cyclist and generally active human being, I plead with municipalities to create and maintain water fountains. Should I ever run for office, this would be my platform.