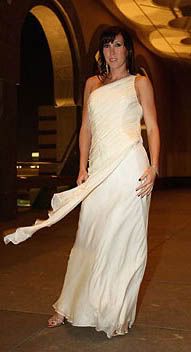 Jelena Jankovic Blog: 2009 Season is over
To end the 2009 season, Jelena Jankovic, who lost in the semifinals of the Sony Ericsson Championships in Doha, made a new blog post on her website… Check it out…
My dear fans,

A season 2009. has ended! It was quite a difficult and tumultous tennis year. Lots of things happened, which influenced me, my personality, the mood on the court, and my game. Beside all these circumstances I managed to stay strong and to finish the year in the top eight players of the world. Of course, the season wasn't successful like the previous one, which I ended as the number one, but, when you take a better look, this is also a great success, and it shouldn't be underestimated. I learned a lot in this year, and everything that happened to me was a great experience to me, also a great school, because I started to appreciate all the things I have, much more than before, and not to take tennis so seriously, since it is just a game. My family is the most important to me, and they are my greatest happiness and joy. It is important that we are all healthy. For the rest we will take care as it goes.

The time for a vacation finally came. It is better to say that this is more a short relax, because, just like in any other business these days, professional obligations can't wait. It means that enjoyment in the fruits of hard labour lasts very short, only for twenty days.

It is nice to be home, again, in Belgrade, especially during the winter when snow falls. I like it because most of the time of year I'm in warmer parts of the world, and I don't have much possibilities to enjoy winter magic. In the morning, when I wake up it is unusual not to have a schedule I must fullfil, which is my routine during the season. Now I am free to do what I want during a day, but I am still not aware of that. So, when I open my eyes in the morning I start to think how I should have to go to practice.
I haven't written to you for a while, so maybe we should say something more about the season 2009. In the year when the things haven't gone as I wanted and planned, I managed to capture two titles – in Marbella and Cincinnati, and also to play the finals in Tokyo. Beside all these individual results, I would like to mention a success in the FED Cup, where I gave my maximum, and together with other players from our national team I achieved historic success by qualifying among the best eight teams of the world. I know how many times I played injured for my country, and how much it hurt, but I was always there for Serbia, because it is a great honour and obligation for me. We are now in a position to fight for the champions title in 2010.

In september, during the Asian tour, I got an arm injury which worried me a lot. I didn't know how the situation would develop, and the rest of the season became uncertain for me. But, I managed somehow to heal this injury and without much practice play the tournament in Moscow, hold on the pressure, and qualify for the third time to the ending Masters tournament which was held in Doha. It wasn't easy to acclimatize, since I came from cold Moscow to the high air temperature in Doha. But, as time went by I was feeling much better, and eventually succeeded in ending among the best four on such a prestigious tournament.
I'm writing you this blog today, and I was thinking a lot about my results and game during 2009, but from now on, until the end of November, there will be no thoughts on tennis. Instead, I am going to rest my mind and body, until the start of preparations for the next season.

It is my goal to return to the very top in the next year, and to win the greatest tournaments. I believe in myself and my capabilities, and I just wish that I stay healthy, because it is the most important thing. I will give my best, and I hope to have a better year in 2010.
Thanks a lot to everyone who were with me in good and bad times, thanks for the support and love you give me. It means a lot to me, and lifts me up when I'm in difficult moments. Stay cheerful and healthy!

Your JJ loves you!