Jessica Mendoza finds hope in Rwanda
Apr 13 5:36 PM ET | By Jess Mendoza
ESPN softball analyst Jessica Mendoza recently traveled to Rwanda as part of the Girl Effect, a project created by the Nike Foundation, NoVo Foundation, United Nations Foundation and Coalition for Adolescent Girls to "give girls living in poverty the opportunity to create a better future." Part of the project is to empower girls through journalism.
That's where Mendoza came in. She, along with ESPN's Lisa Salters and CNN's Suzanne Malveaux, worked with a group of students in Rwanda to help them gain confidence through storytelling. Below is a blog from Mendoza's travels.
Day 1: Our first meeting
I woke up early to head to the Girl Hub in Kigali and meet the nine female students we will be working with. The goal is to help them become journalists, the future voices of their country. The young women, ranging in ages from 14 to 26, will be writing for the new magazine Ni Nyampinga, which translates to "I am a beautiful woman inside and out." The name could not be more fitting.
Along with my travel mates, ESPN reporter Lisa Salters and CNN anchor Suzanne Malveaux, we met the group and tried to break the ice. Usually, you do this through questions or small talk; here, it was through hair-braiding.
The youngest student in the group, Christine, began braiding my long hair as we sat listening to Suzanne talk about her experience reporting in the midst of the war in Afghanistan. I felt like we were family before we were friends. The next thing I knew, others were joining Christine in taking different sections of my hair. When we were done, I had one of the most interesting hairstyles I've had in my life. It didn't take long for us to be comfortable around one another.
When the questions did start to come, the first was from Lydia. She was so curious about why I would choose to cover sports; it seemed more natural for female journalists to cover topics like fashion. I told her I played sports and I had a huge passion for it. The group found this very interesting and new.
I played sports? What sports? Why? For how long?
Once I heard the stories they wanted to tackle, it made more sense to me why covering sports seemed so foreign to them. Some of their ideas: the pressure to have sex with your boss to keep your job; female house workers being mistreated by their employers; the effects of foreign influence on their history, culture and style.
We divide into three teams; Lisa, Suzanne and I were each paired with three young women we will work with for the next three days. My group is with Allen, Lydia and Sifa. Our first task: tell the stories through photography.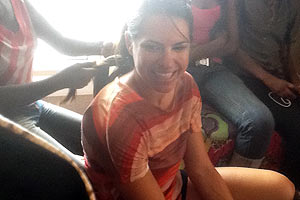 Courtesy of Jess MendozaThe students at The Girl Hub helped break the ice by braiding my hair.
Day 2: The market
When we entered the local market here, I was in awe. All of the produce, fish I've never seen before … but then, when we went deeper into the maze, I came across the artwork, clothing and beautiful, handmade woven baskets. (Perfect for gifts for my friends and family back home!)
The girls in my group were in charge of finding stories in the market, conducting interviews and writing their first article. One of the biggest shocks for me was seeing how many times the students were denied interviews, or the resistance they met when they wanted to photograph locals. A common question was, "How will this help me?"
Many of the locals were unfamiliar with magazines and newspapers, and me trying to translate words like "advertising" and "marketing" was almost impossible.
I told the girls not to be discouraged, to keep trying; the more stories we tell, the more the public will know get to know Ni Nyampinga and see its value.
Day 3: Reconciliation Village
I made an early-morning trip to Reconciliation Village with Suzanne and her CNN crew. Many of the Rwanda genocide's mass murderers live here with the surviving family members of their victims. The idea: find peace through the horrible events to prevent it from happening again. Can you imagine living with the person who killed your entire family? Suzanne interviewed one of the killers, Derrick, and a woman from the family he had killed 18 years ago. (You can see the full interview here.)
Our next stop was one of the churches where thousands of people had been murdered during the genocide. I have never seen a memorial site where the graphic details of the horror were still intact: thousands of skulls, bones, bloodied clothes, blood from the children who were killed still on the walls.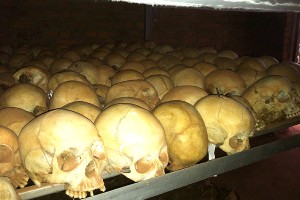 Courtesy of Jess MendozaA difficult part of the trip: visiting one of the genocide memorials.
But rather than feeling anger, I felt a huge sense of appreciation for humanity. I hugged our translator, Anita, who cried for her family. At that moment, I wanted everyone in the world to feel this incredible amount of love so they would never hate or kill or torture someone again.
Love is the only thing I have received from my new Rwandan friends from the moment I arrived. I am not sure the people here have yet learned to completely forgive the atrocities; but what the genocide has created in Rwanda is a future where its people will turn to peace before revenge. (How else could you live with those who murdered and tortured your own family at the Reconciliation Village?) I called my own family, and when my husband answered the phone, I cried for two straight minutes before I could even say hello.
Day 4: A final visit
We returned to the Girl Hub to say goodbye to our girls, and I looked at each one of them with a new appreciation for the future they have created for themselves through journalism. They are the voices of the Rwandan youth; they are the future. The group is so driven to show the world there is a different culture in Rwanda; it is beautiful, smart, creative and unique. Ni Nyampinga.
After learning more about the genocide and speaking with the young women here, what amazes me is how much they want to move on. They don't want their identity, or the country's, to be defined by the genocide; they want to write about the beauty, fashion, culture and future of Rwanda.
Yes, they have all been affected by the genocide; most of them lost their parents and numerous family members. Emotions rise when the genocide is brought up; they will never forget it. But these young women arethe future, and that is why the Girl Effect is there — to pave a different, more hopeful path filled with the love and beauty that is all around the youth of Rwanda.