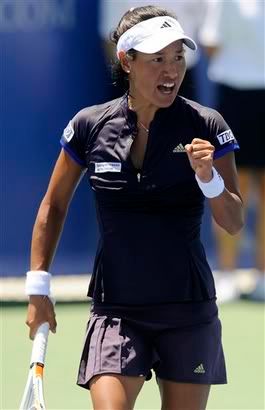 Kimiko Date Krumm loses, but enjoying comeback at 38
Kimiko Date Krumm joked that she doesn't ask the age of her opponents. Instead, she asks how old their mothers are, because she can better relate to that generation.
A case in point came Tuesday, when the 38-year-old Date Krumm lost to Sabine Lisicki 7-6 2-6 7-5, in the first round of the LA Women's Tennis Championships.
Date Krumm made her professional debut on the WTA Tour six months before Lisicki was born in September, 1989. She won seven tour titles and about $2 million in prize money and was No. 8 in the rankings when she retired after the 1996 season to spend her time being Mrs. Michael Krumm.
Now she's back on the tour, trying to rebuild her ranking in a sport that changed dramatically during her 12-year sabbatical, and she said she would like to play "maybe one or two more years, maybe three years, until my body is dead. Age is not important to me."
"Maybe some people think it's too crazy, but I'm enjoying a lot," Date Krumm said of her comeback. "For me it's not only for the ranking or always to win the tournament. It's just to enjoy life. Before when I play, after losing it was like everything finished. Now I have more wide views."
Date Krumm's German husband is a race car driver who constantly encouraged her to return to the game he knew she loved. She said she always rejected his suggestions and told herself tennis was not important anymore. She said her thinking changed early in 2008, however, when she began to train in preparation for an exhibition in Tokyo with Steffi Graf and Martina Navratilova, and afterward she began to play again.
She played on the ITF circuit in Japan for the second half of last year, winning three singles titles and two doubles championships, and returned to the WTA Tour early this year. She's had only modest success, but takes encouragement from close matches like the one against Lisicki.
"Everybody hits harder, more powerful, more speedy," Date Krumm said. "A long time ago, in my generation, everybody was using more the head and more the tactics, and tennis I think was more interesting to watch and play. Now everybody says my style is old style, but I don't care. It's working so I don't care.
"I'm not tall, not powerful and don't have big muscles," the 5-foot, 117-pound Date Krumm said. "I cannot change my body so I need to use more my head and my technique. This (is) my second career. It's just to enjoy to play tennis. I love tennis, and I like a challenge."
Photo Getty Images