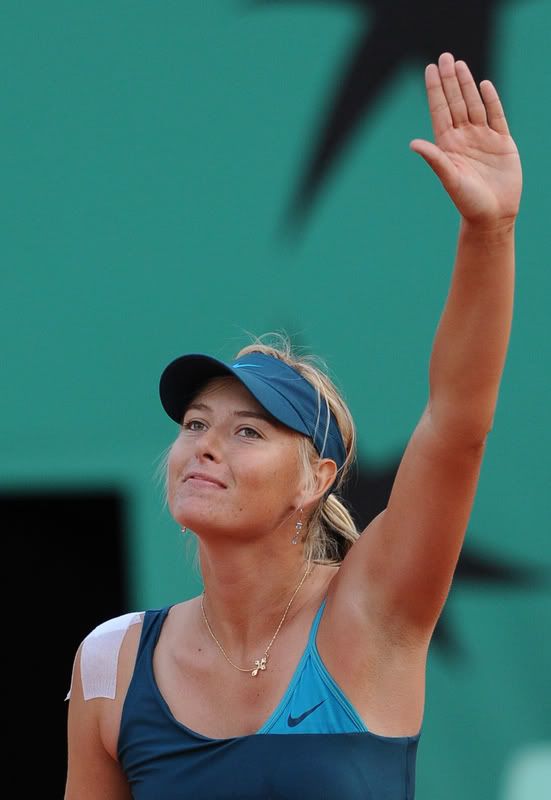 Maria Sharapova French Open Interview May 31st

M. SHARAPOVA/N. Li 6?4, 0?6, 6?4
Q. So you're the marathon woman. You're getting to like these three?set battles?
MARIA SHARAPOVA: Yeah, sure. (laughter.)
Um, whatever ??whatever it takes. You know, if it takes three sets, if it takes two sets, if it takes two sets in five hours, I don't care. I'm willing to be out there for as long as I need to be in order to finish the match.
You know, today was another tough one, so it was tough. But I managed to get through it and managed to win.
Q. So just talk about physically how you were feeling, and then going into the third set, kind of what you're thinking about, what you have to do?
MARIA SHARAPOVA: Yeah, I mean, I'm definitely a little bit ?? little sore, but I'll be fine. That's why the Grand Slams are great. You have a day in between, day to recover, and that always helps the body.
So I think physically I'll be fine. I mean, I had nine months of doing physical workouts and fitness and all that, so it's paying off. Before, couple years ago, if I had played two three setters in a row, I'd be dead. I actually feel pretty good.
Q. So you had this little problem with the thigh. Do you know exactly what it was? You seemed to be struggling with your serve lately. Does it have anything to do with shoulder problem?
MARIA SHARAPOVA: My thigh just was a little bit sore. I just needed to put some hot cream on it to forget that anything was wrong.
The serve, I actually served really good today. That actually pulled me through the match, so I'm really happy with the way that worked.
Q. You played Li Na five times now, and you won the previous four in straight sets. This time definitely was the toughest one. What do you think of the difference? Did she play a different game, or is it because you played different?
MARIA SHARAPOVA: Um, I've never played her on clay, and I think this was definitely a different match up. And in considering we haven't played each other for a long time, I think all the previous matches should be taken out of the equation, especially when you're playing someone on a different surface.
I actually thought she did many things better than when I previously played her. Even though those matches, as you said, they were two sets, but I remember having, you know, many difficulties against her and being down ?? I remember I was down quite a bit in the first set at the US Open and found my way back in that match and managed to pull it through.
But they've always been really difficult encounters. You know, she knows how to play the game, and she plays it really well. She's really aggressive. She's ?? I think she's improved her serve a lot. It was really important for me to return well today. I think in the end, that and serving really well helped me win the match.
Q. What's it like to play a tournament with no expectations, if that is still the case?
MARIA SHARAPOVA: Um, it's still a tournament and you still gotta go out and gotta compete and you've gotta face an opponent and you're going to try to win.
You know, I think expectations are just words, and so is pressure. You know, they're obviously going to be thereat times, and you're going to have to deal with them. You know, I think definitely if someone told me five or six weeks ago while I was practicing in Florida and coming home at7:00 p.m. and, you know, deciding on which tournament I would be able to start back on, if someone told me that I'd be in the quarters, I'd probably take it, you know.
Q. You had a pretty interesting match that preceded you on center court. Were you following it inside the locker room and watching what was happening with Nadal?
MARIA SHARAPOVA: Yeah. It's interesting, because usually I love playing after Nadal, especially here, because I know that it's ?? most of the time it's only going to be three sets. And if he's down a set, I know that I'm going to be in the locker room for three more, because he's going to come back and win.
So that was definitely a little bit strange. It caught me off guard. But that's ?? that's life and that's tennis and that's why they put the nets up every morning. He's won this tournament so many times, and,you know, he's an incredible athlete.
I have a tremendous amount of respect for him and for his fight and for the way he deals with everything, but just goes on the court and performs and gives it 120% every time.
Sometimes you leave that court and sometimes you lose. It's just part of the game. He has a great head on his shoulders. I'm sure he'll be fine.
Q. My question was going to relate to this. I'll just follow up. Players are really known for their professionalism, their tunnel vision. But when there's a huge match like Rafa's,does the word get around? Is there abuzz in the locker room?
MARIA SHARAPOVA: Yeah. I was at the ?? I was in the gym for the majority of the last set,just trying ?? warming up, and trying to get ready for it, for my match.
I definitely ?? I saw a few players, and they seemed really into it. I had my headphones on, so I wasn't ?? I try not to pay attention and try not to get into all the drama of who's winning and who's losing, because it just sucks up too much energy from you, you know.
But, yeah, I was definitely aware of the score.
Q. I know you're tired, but is there any time for happiness after the victories? Are you thinking, I'm in a tournament now…
MARIA SHARAPOVA: What makes you think I'm not happy? I mean, what do I need to do, jump up and down?
Q. That would be good.
MARIA SHARAPOVA: Really?
Q. Not on sore legs.
MARIA SHARAPOVA: Really? Don't make me do it.
Q. But is there a lot of inner happiness? Are you so into the tournament now you're thinking, practice now, and Cibulkova the next day?
MARIA SHARAPOVA: I mean, I'm a competitor. I'm an athlete. I'm here to get the job done, and my job isn't done. When the tournament is done,there's always the next one.
I mean, I'm so grateful that I'm still here and that I have this amazing opportunity to play so many matches and keep winning and keep digging them out and keep fighting.
I mean, I love that feeling. That's why I play the sport. You know, there's no better feeling than coming down from behind and trying to find a way to win. Those things definitely make you happy. I mean…
Q. Being off for so long, and this is your first big tournament back, is there a certain sense of, Heck, I ain't got nothing to lose? I'm playing with the bank's money. In some ways, does that take a little bit of pressure off?
MARIA SHARAPOVA: Um, I think from a general point of view,yes. But I think ?? I mean, you always ?? I don't know how it works. It's always different. It's tough to answer that question, because you always want to win.
Even when you don't think, you know, you're physically prepared or you haven't had enough matches or this and that, you forget about that when you step on the court. You just think of your goal, and your goal is to end that match with a W.
I know that's not a really great answer to your question, but I tried.
Q. A few words, please, to Dominika Cibulkova. She was in Amelia Island against you first time in final. It was first time in final on clay in this match, and then after you beat she in Roma in three sets. What do you think about Dominika?
MARIA SHARAPOVA: She's definitely a difficult opponent,especially on clay. I've had ??I've had a few challenges against her, and I think the last ?? when we played in Rome, that was a year ago, so I think that was my first round in Rome,and it was a really close match.
But I just gotta go out there and perform and play and we'll see who wins.
Interview from RG
Photo Getty Images