Philippus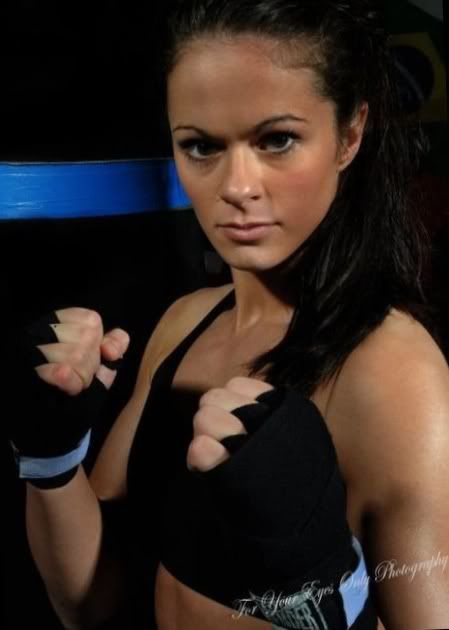 Hein
By: Rob Sargent – MMARising.com
Top-ranked amateur prospect Jessica Philippus will compete once more as an amateur on May 12th. The Missouri-based fighter is set to challenge Amanda Hein in a Kansas Super Fights women's title bout in McPherson, Kansas. MMARising.com confirmed plans for the fight on Tuesday.
Philippus, who gave birth to daughter Kamilla in late January, was initially set to make her pro debut at Invicta FC 1 this past weekend. She opted to withdraw from the card when it became clear that she would not be able to cut to 105 pounds in time, and instead faces Hein in a 120-pound bout.
Philippus (6-1-0) has been inactive since February 2011 due to the pregnancy with her second child, but the talented wrestler is coming off of two of her biggest wins to date in a pair of title-winning efforts. After a third-round submission victory over Leslie Lockwood in December 2010, Philippus won her second championship in as many fights just two months later when she stopped Sarah "Piranha" Goodlaxson. Philippus had planned to make her pro debut on Saturday in a bout with Meghan "The Babe" Wright on the Invicta FC 1 card and hopes to turn pro at the promotion's next event in July, but she must first get past Hein in ten days.
Hein (3-3-0) may enter the title bout with Philippus as an underdog, but the current KSF titleholder has battled tough opposition throughout the majority of her amateur career. Hein's three defeats have come against some of the top female fighters in the amateur ranks, including a September 2010 loss to Laura Marcusse; a close friend of Philippus who sports a 4-1 record. On March 31st, Hein needed just 52 seconds to dispatch of Justine Nelson in a Kansas Super Fights women's title tilt. The 23-year-old Kansas native now makes the first defence of her new championship and looks to secure the biggest victory of her young amateur career.
Kansas Super Fights: "My Battle, My Belt" takes place on May 12th at Perkins Regency Hall in McPherson, Kansas. The card features numerous title fights and the bout between Philippus and Hein is expected to be contested at 120 pounds.
Filed under: MMA