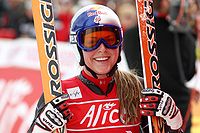 Lindsey Vonn, Olympic Skiier. Photo credit: Wikipedia.org
That's right, this week, along with a new year, we're celebrating a new decade. It's 2010, and 10 years have officially gone by since the start of this new millennium.
Today, according to the Ski Channel, NBC gave the honor of "athlete of the decade" to a woman whose name should be recognized in every living room by now.
Sign of the times? Maybe. Regardless, it's well-deserved.
Here's a rundown of what she's accomplished in the past decade. I'm sure she'll be adding to this list this year in Vancouver.
Vonn is the first American woman to win back-to-back overall World Cup championships, earned in 2008 and 2009.
She has also won World Cup discipline championships in downhill (also back-to-back) and Super G (the first American woman to do so). With 25 World Cup wins in four disciplines (downhill, Super G, slalom and super combined) and two World Championship gold medals (plus two World Championship silver medals), she has become the most successful American woman skier in World Cup history. (See profile in Wikipedia)
Even more interesting, she survived a horrific crash in 2006 and earned the Olympic Spirit award because she still competed in the race, finishing eighth.
I can't wait to see her this year in Vancouver. Visit Lindsay Vonn's Web site to learn more about her life and upcoming events.