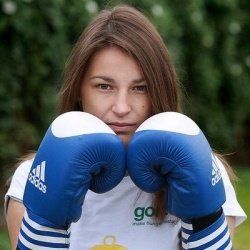 One of the most popular boxers at the 2012 Olympics will try to test her skills against with pro rules, while keeping her amateur status.
According to SportsNewsIreland.com, Katie Taylor's coach and father Peter Taylor announced she will be a part of the World Series of Boxing. The match, which is sanctioned by the Amateur International Boxing Association (AIBA), will be under pro rules (no amateur protective gear) and will consist of eight 2 minute rounds. They score bouts with a 10 point must system.
AIBA created the WSOB so the amateur fighters can try pro rules boxing without forfeiting their opportunity to be in the Olympics. No word on if the match would simply be an one time event, or if they will be doing a complete division in the WSOB team tournament.
The hope was Taylor would be taking on IBA/WBF champ Holly Holm, but the AIBA blocked the idea, and Holm decided to retire from boxing to pursue MMA. Queen Underwood's camp stated they weren't interested in the fight.
An opponent will be announced in the next few months. The match will happen in late fall.