Queen Underwood vs. Natasha Jonas – Courtesy Ivan Sekretarev Associated Press
The fighters came to impress on the historic first ever day of Olympic Women's Boxing in London Sunday morning. 36 pugilists in 3 weight divisions will duke it out this week to stake their claim of being the first Olympic gold medalists.
The first ever fight saw flyweight Elena Savelyeva of Russia defeat Hye Song Kim of North Korea 12-9 in a spirited match.
The lone US fighter boxing today, lightweight Queen Underwood, came up short to hometown fighter Natasha Jonas of Great Britain. Underwood pressed the action early, but it was Jonas's counter punching that gave her the edge 21-13. Jonas will face #1 ranked Katie Taylor of Ireland in the quarterfinals.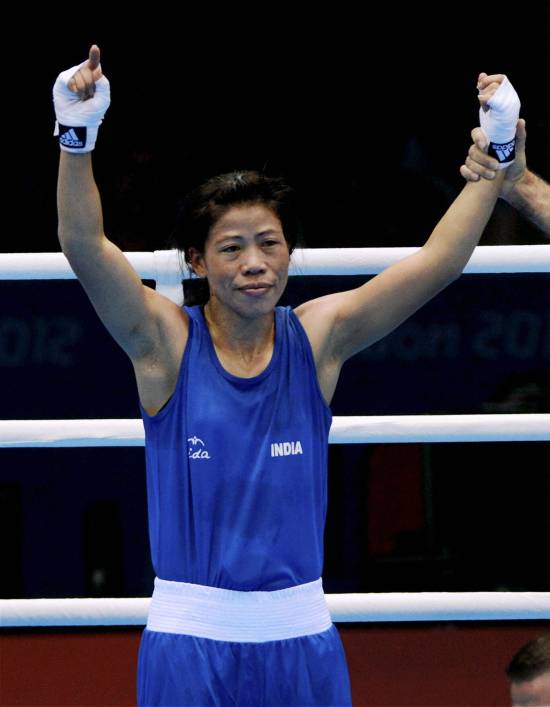 Mary Kom Courtesy Outlook India
The most impressive fighter of the day goes to India's Mary Kom, whose footwork and speed made up for her lack of length in the ring. Mother of five year old twins, the 5 time world amateur champion is looking to get India's first gold of these Olympics.
The upset of the day went to Nigeria's Edith Ogoke, who was able to outscore AIBA silver medalist Azerbaijan's Yelena Vystropova 14-12.
The biggest disappointment has come from the reffing and judging. The first incident came in a close match between Karlha Magliocco of Venezuela and Erica Matos of Brazil. The ref decided to give a two point penalty to Matos for holding Magiocco, although it was the other way around. The mistake cost Matos a victory 15-14.
Throughout the day, referees were calling weird holding calls, and not breaking up the fighters at appropriate times. The judges weren't calling the as many points, and scores were off; sometimes to the benefit of a losing fighter.
Veteran commentator Teddy Atlas stated it best: "Women ask to be treated like the men. Unfortunately, they have been, when it comes to the horrible judging and officiating."
Team USA will have their two remaining boxers in action Monday, as flyweight Marlen Esparza takes on Venezuela's Karlha Magliocco, and middleweight Claressa Sheilds will take on Sweden's Anna Laurell.
The matches will be broadcast on CNBC at 5:30 a.m. pacific/8:30 a.m. eastern time.
—–
Results from Day 1
Flyweight (First round)
Elena Savelyeva (RUS) def. Hye Song Kim (PRK) 12-9
Karlha Magliocco (VEN) def. Erica Matos (BRA) 15-14
Mary Kom (IND) def. Karolina Michalczuk (POL) 19-14
Stoyka Petrova (BUL) def. Siona Fernandes (NZL) 23-11
Lightweight (First Round)
Natasha Jonas (GBR) def. Queen Underwood (USA) 21-13
Dong Cheng (CHN) def. Mihaela Lacatus (ROU) 10-5
Adriana Araujo (BRA) def. Saida Khassenova (KAZ) 16-14
Alexis Pritchard (NZL) def. Rim Jouini (TUN) 15-10
Middleweight (First Round)
Marina Volnova (KAZ) def. Elizabeth Andiego (KEN) 20-11
Anna Laurell (SWE) def. Naomi-Lee Fischer-Rasmussen (AUS) 24-17
Li Jinzi (CHN) def. Roseli Feitosa (BRA) 19-14
Edith Ogoke (NGR) def. Yelena Vystropova (AZE) 14-12
—–
Quarter-Finals (Live on CNBC)
Flyweight
Ren Cancan (CHN) vs. Elena Savelyeva (RUS)
Marlen Esparza (USA) vs. Karlha Magliocco (VEN)
Maroua Rahali (TUN) vs. Mary Kom (IND)
Nicola Adams (GBR) vs. Stoyka Petrova (BUL)
Lightweight
Natasha Jonas (GBR) vs. Katie Taylor (IRL)
Dong Cheng (CHN) vs. Mavzuna Choriyeva (TJK)
Adriana Araujo (BRA) vs. Mahjouba Oubtil (MAR)
Alexis Pritchard (NZL) vs. Sofya Ochigava (RUS)
Middleweight
Marina Volnova (KAZ) vs. Savannah Marshall (GBR)
Anna Laurell (SWE) vs. Claressa Shields (USA)
Li Jinzi (CHN) vs. Mary Spenser (CAN)
Edith Ogoke (NGR) vs. Nadezda Torlopova (RUS)
Filed under: Boxing