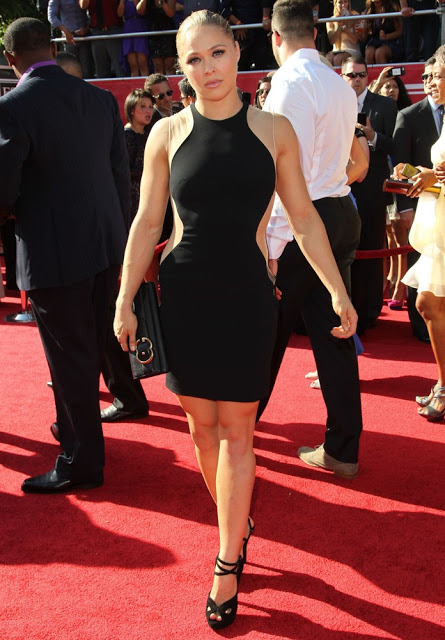 It's hard not to see a parallel between Gina Carano and UFC champ Ronda Rousey. Both successful fighters, both popular, and both helped the sport grow into the main stream. Rousey will have another thing in common in Carano come next year, she will star in a major Hollywood picture.
Rousey will pack her bags and head to Bulgaria in September to join the all star cast of "Expendables 3″. When asked about the role, UFC president Dana White had no qualms, stating the champ's filming schedule will not effect her upcoming title match with Miesha Tate.
However, with the news of Rousey being serious courted for the upcoming "Fast and Furious 7″, things may change between White and Rousey.
Initially, it wasn't Rousey's intention to do acting when she first started fighting. She played an extra on CSI:NY in the summer of 2011, and told the media that she wasn't going to pursue a career in Hollywood. She obviously changed her mind. Rumors earlier this year had her being tapped for being a part of one of "The Hunger Games" series of films, but there hasn't been word on if that will come to fruition.
The film career does have complications to Rousey's fighting career. If she does get the role in Fast 7, this could mean several of months off with Cat Zingano waiting in line after Tate if Rousey retains her title. Not to mention the three or more ladies chomping at the bit to become the first women to defeat her. Plus she would need time to do a full fight camp, especially with a lot of serious contenders who are only focused on beating the champ next year.
The biggest concern is Rousey will simply leave the sport like Carano did and take the Hollywood money. Unlike Carano, however, Rousey needs to contend with White, who puts the UFC above anything else. The champ has at least two more fights on her contract, if not more, and the UFC won't exactly let a moneymaker like Rousey simply leave out on her high money contract. We can speculate the reported fight between White and Rousey's Hollywood lawyer may have dealt with Rousey's blooming acting career.
Can the champ balance both a film career and defending her title? Only time will tell.
Filed under: MMA