Pancakes.
It's a surefire way to capture my attention, although "ice cream" also has impressive properties over my sense of focus. Regular readers of my blog understand my adoration for pancakes. They are my reward for hard workouts, my celebration for great training and races and, occasionally, my guilty comfort food. Yes, pancakes bring me both joy and solace. Nothing can be all that bad when I'm eating pancakes.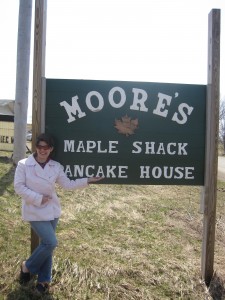 Moore's Pancake House
So when Mark discovered a place in the middle of nowhere which served all you can eat pancakes as part of their regular menu, I had to make a pilgrimage.
Ideally, I would have arranged my arrival at Moore's Maple Shack & Pancake House to coincide with a long or long bike ride. Hidden on a country road in Freedom, N.Y., the area is perfect for some long, hilly work. But alas, this Maple Shack & Pancake House is so special that it only serves pancakes for four months. While open year-round to sell maple products, the pancake house only serves from March 1 to the third Sunday in April and on Sundays only in January and February.
The existence of this place was revealed to me last weekend, which gave me exactly one week to find my way there for pancakes, or wait until a Sunday in January or February. And this, well, this seemed like an experience worth making happen now.
So to pre-carb for our trip to Boston, we took a ride, landing in my version of heaven. (Disclaimer: Mark is running Boston. I am a lowly spectator. My chances of ever qualifying for Boston are slim to none, though perhaps when I hit the 80-year-old age group I might have a shot of training for it. So really, there was no need for me to carb up.) As we drove up Galen Hill Road, the house was easy to spot – it was the one with all the cars. A small place with a definite "shack" feel, it was rather busy with two large groups in the middle of the small dinning. We took a table at the corner and marveled at the collection of antiques – life pieces of five generations of Moore family members who have worked the maple operation and restaurant.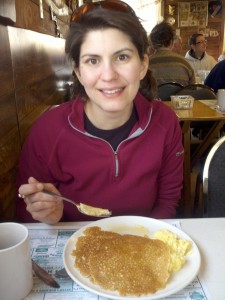 Enjoying my pancakes!
The menu is all breakfast – featuring pancakes, french toast, eggs and sausage in various combinations. After a hard