Recently, I had the pleasure of interviewing Jeffrey Chatellier, a Peace Corps' volunteer who helps run Ball for All Sport Charities for African women.
I was put in contact with Jeffrey through the Sport for Change contest run by Nike and Ashoka. As I've mentioned before, the Sport for Change contest is powerful and effective because it calls on organizations (big and small) from around the globe to come together, share their stories and collaborate together, online.
In this interview, Jeffrey mentions that "sports, environment and Africa" are three things that have been instrumental in making him the person he is today. As you read his story below, you'll seet hat Jeffrey is among the few who are dedicated toward creating opportunity and enhancing the lives of African women through the power of sport.
The teenage girls who Jeffrey has worked with live in Dassilami Soce, a village of 1,000 people near Toubacouta, in central Senagal. They were members of the first team Ball for All sponsored in Senegal. They continue to practice and play, and their families have grown to see how beneficial a sport like soccer can be in shaping their children into responsible members of the community. They have brought the teamwork, cooperation, and confidence they learned on the playing field into their homes and community.
Jeffrey is doing the right thing – he's sharing this incredible story by utilizing the power of social media. Not only is he involved in the Sport for Change collaboration, but he created a Facebook page, shared a viral YouTube video (below), and is now conducting blogger outreach (through me).
My only suggestion to Jeffrey is to keep doing what he's doing. Maybe even set up some podcasts with the girls, create a blog, join Women Talk Sports, and start a Twitter account. Using multiple mediums to share some of the amazing stories he has heard is (for sure) the way to go. Hopefully you will read this story and share it, too.
I hope you enjoy this interview as much as I did. Best of luck to Jeffrey and Ball for All. If you support this organiation (like I do), join their Facebook Cause page and make a donation. A little bit can go a long way. In addition, check out their Web site where you can learn more.
1) Tell me about your background, your experiences at Yale, and how you've ended up where you are now.
Sports, Environment, Africa: These three things have been instrumental in making me person I am today. I began playing sports at 4 years old when I started ice skating. Even though I stopped playing hockey, I became a varsity soccer and tennis player in high school. I can still remember clearly the words of my coach as he said "you must leave your comfort zone."
As I sat in a corporate consulting office after college, those words came back to me. I decided to join the Peace Corps and follow my dream to visit Africa and learn a new language. While living in Senegal, I became passionate about the environment as I lived next to a national park.
However the experience was extremely tough as I was thrown into a new culture and was living in a very poor community where people live on less than a dollar a day for the whole family. Often sick from contaminated water and food, I considered giving up and going home but the echo of my coach saying "leave your comfort zone" came back to me and inspired me to stay.
Soccer was the way I connected with my village. The young men I played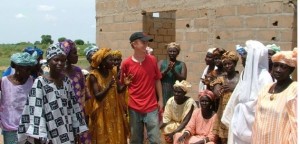 with became my language teachers and cultural guides helping me to truly integrate into the community.
After finishing my Peace Corps service, I wanted to pursue a career related to improving environmental management practices so I applied to Yale University's School of Forestry and Environmental Studies. I focused my master's degree research on rural energy needs in developing countries and creating sustainable ways to provide the world's poor with modern and clean energy. I am currently working on this issue in Indonesia. Ball for All keeps me connected to Senegal and the work I started as a Peace Corps volunteer.
2) Tell me about Ball for All, how it got started, and how you've gotten involved.
In 2004, Brad and Jenny Kremer, two former Peace Corps volunteers in Senegal and Guinea, started Ball for All. As volunteers in small villages, they saw the power soccer had in bringing joy to the children. They also saw a lot of development money being wasted and as a result, they wanted to create an organization that would help children directly. They believed that sport was the best medium to do this and Ball for All was born out of this concept.
In 2005, Brad came to Senegal looki

ng to set up programs for Ball for All. At that time I had just finished my Peace Corps assignment but was in the capitol city completing my medical clearance getting ready to go home.
By chance, we met at the Peace Corps office and I told him about a girls' soccer team I started in my village. Brad asked if I could accompany him to the village. Despite not wanting to ride 10 hours in a crapped car on poor roads, I agreed as I felt connecting my girls' soccer team with Ball for All would keep my efforts going.
Through contacts from the village where I lived and worked in as a volunteer, Brad and Jenny Kremer expanded the sports program in the Toubacouta school district. The following year, I had plans to go back to Senegal for research and planned it so I could attend the first regional tournament to include girls' teams.
Jenny and Brad then asked me to join the board of trustees and I accepted. After helping organize the 2007 tournament, Brad and Jenny told me that they were going to have to close Ball for All due to family and work obligations.
My mother, a believer in the organization and a supporter of my early efforts, agreed to take on the administrative responsibilities as director and I along with the other board members agreed to continue the organization's activities.
3) Why is it important that young females in Senegal play sports?
Senegal is a conservative Muslim country where women have not had the same opportunities as men in terms of education and employment. In rural areas, young females are often burdened by tedious house chores and have very little time for fun or studying. Sport helps to build the girls' confidence and helps them realize that they are capable of doing all the same things boys can do.
It really tears down gender roles.
4) Who created the social media resources for BallforAll (YouTube video, Facebook Cause Page)? Do you think these resources are important?
The internet is our organization's largest source of donations and we are trying to enhance our online presence in anyway we can. Our website allows us to connect with people all around the world from Canada to Australia, helping us raise thousands of dollars. We hope to add more interactive features on our website and include more up to date stories of the children that participate in our programs.
Our board member, Emily Burt, works for Google and YouTube and created the Youtube video we showcase on our website. We hope to make more videos in the future as we feel that video really captures the impact of our programs.
I created the Ball for All Facebook Cause as a way to tap into the popularity of Facebook and create a new avenue to give people information on what our organization is doing.
In a short period of time, our Cause went from being mostly a group of my friends to a group that is growing due to the recruitment efforts of lots of people.
We hope to build a group of a 500 hundred people in the next few months and we are almost half way there. I plan to maintain the Cause site like a blog with periodic stories from our Peace Corps volunteer partners in Africa along with a steady stream of photos. As with all internet sites, new and interesting stories need to be posted in order for the site to build traffic. Join our cause: http://apps.facebook.com/causes/186096?m=92eea645&recruiter_id=2483122
5) Why is it important for female athletes in the United States to understand what happens in Senegal?
When I talk about Ball for All, I often tell a story about when my older sister tried out for little league and was the only girl at the tryouts. She didn't make the team that year but she persevered and went on to become a great soccer player at the collegiate level.
Despite the obstacles, her generation really pioneered sports for women and girls and
I think female athletes in the US should know that there is still a lot of work to be done in terms of tearing down barriers that prevent girls from experiencing the power of sports.
6) How did you find Nike's Gamechangers program? What do you think about it?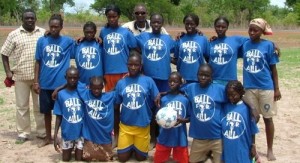 I found out about the Nike Gamechangers program through the Beyond Sport foundation's Facebook page. I think it's a great idea as it has already put me in contact with a lot of people that are interested in supporting our activities. By bringing this community together, organizations can interact and learn from each other and could also potentially collaborate in order to have a greater impact.
7) New Developments:
I'm really excited to announce that Ball for All has recently teamed up with Kimberly Washington who is a Peace Corps volunteer in Mauritania. Kimberly is a true pioneer and has created the first girls' basketball team in the country. In conjunction with the girls' empowerment center Kimberly manages, we hope to grow this program over the next few years. Pictures can be found at: http://apps.facebook.com/causes/186096?m=92eea645&recruiter_id=2483122
8) How do you hope this program will grow? What does it need to make a huge impact?
We really believe in the power of the internet to connect with people that are interested in joining our cause.
Since we are small volunteer driven organization, we would love to connect with a person that has a lot of savvy in terms of making videos and would be willing to donate their time and even join our board.
A seed grant of 50,000 dollars would allow us to scale up our activities in Senegal to include the entire country and potentially make girls soccer ubiquitous throughout the rural parts of Senegal, impacting hundreds of thousands of girls.
Once again, I hope you enjoyed this interview as much as I did. Best of luck to Jeffrey and Ball for All. If you support this organiation (like I do), join their Facebook Cause page and make a donation. A little bit can go a long way. In addition, check out their Web site where you can learn more.