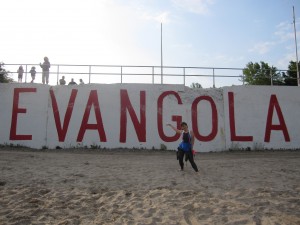 Ready for a triathlon!
Welcome to Evangola State Park, home of A Tri in the Buff and my first complete outdoor triathlon of the season. My goal was maximum enjoyment and while I had a nervous stomach before the swim despite the fact that Lake Erie was calm as could be, it was a fantastic day. So many of my friends were racing and family and friends came out to cheer and check out the action. As always, I proved to myself that I can recover from rough patches, push myself all out and have plenty of room to grow.
Swim: Slow pink caps unite! Our chat in the starting corral and in the water before the starting gun, a bunch of the women in my wave talked about surviving the swim. Sidestroke. Backstroke. Whatever it took. As the gun went off, I waded out in the shallow water. At 66 degrees it was chilly but not ice cold and I was able to put my face in the water without much problem. But swim? Well, that took me some time. I was nervous. I was tired. I was having trouble channeling my adrenaline toward good rather than becoming wasted energy. It was until the second buoy – about a quarter of the way through the course – where I felt comfortable and found a swimming groove. I enjoyed that for a bit. Until the next wave caught up with me and started swimming over me. One of my fellow slow pink cappers accidentally kicked me square in my goggles while she was aggressively backstroking. No worries. I was fine and my goggles stayed put. Eventually I remembered that I can swim. With each disturbance I put my face back in the water and restarted my swim. I glanced at my watch as I got out of the water. That was an average swim time for me. Bonus! With my slow start and occasional restarts, I still swam to my average level. For only my third time in open water this year, I'll take it.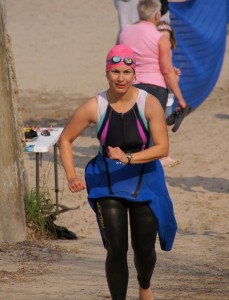 I am quite determined out of the water.
Transition 1: The swim time of course included the run up from the beach into transition and while not too terribly long, there was a significant cement ramp. Yeah. I walked that. Once in transition I ran to my bike only …. wait, which row was I in again? Yep, I was a headless chicken in transition. And yet, my T1 time wasn't nearly as bad as it could have been. Score.
Bike: Ah, home. I am loving being on my bike this season and this race was no exception. I took the bold move of wearing a simple timing watch. No Garmin with average pace and cadence. I just wanted to go hard without judgment. The course was not hilly but it wasn't pancake flat. It had inclines which can be annoying – you don't quite know how to adjust your gears. I pushed a big gear and felt pretty good doing it. The course is open to traffic and on the route out of the park, an older gentleman driving a car was patiently following the cyclists. Only, I was approaching quickly and wanted to pass one of the cyclists in front of me. But the car wouldn't pass the pack. So I took matters into my own hand and found an opening, sneaking between the car and one of my fellow triathletes. It was smooth sailing from there. In the final time, I'll learn that I pushed one of best bike paces in a sprint triathlon ever. That makes me smile.
Transition 2: Found my spot much easier this time and had few issues. Bike on the rack. Helmet and cleats off. Socks and sneakers on. Off I go.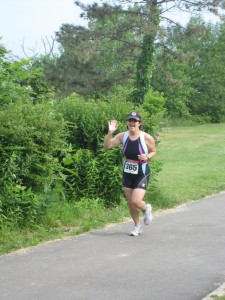 VERY happy to see my cheering section. And look! There's definition in my arms and legs! Strength training pays off!
Run: The 5K course is unusual, utilizing a trail over to a development for an out-and-back, winding around the back of the park, across a field, over to a road and a hill. It was getting hot and humid and my goal was to run hard and steady. I probably could have run a bit faster pace, but I was having issues keeping my breathing easy and wanted to keep running. I passed a fair amount of people – many of them doing their first event in the uber-short distance Try-a-Tri. I offered encouragement – because even if you're walking you're doing great. Seriously. As long as you're moving forward, you're in the game. And being in the game is the most important thing. As I hit the hill in the run course, I noticed a "2 mile" mark on the road. Almost there. I took a brief walk break at the top of the hill where the water stop was stationed and immediately started up again. But the hill wasn't the worst part of the run course. The worst part is the quarter-mile or so in which you run back into the park along the grass. Not a trail. Just a big field of grass. This I found not fun. And slow. And my watch was ticking away. I thought I could finish in under 1:40 and pushed myself in that final stretch.
Finish: My final time: 1:39:28. Yes! One of my best sprint triathlon performances to date. And I would categorize my swim and run as merely "Ok." But most importantly, I had a blast. Perhaps the best lesson I've learned this summer: My healthy, adventurous lifestyle puts me in a position to participate, compete and enjoy. I can get the most out of my day, of the opportunities in front of me, of playing on the edges and beyond of my comfort zone, because I know I'm prepared, for whatever might come my way.