It wasn't until early in the week when the idea really started to take hold. The training plan called for a 15-mile long run on Sunday. The Buffalo Marathon and Half Marathon was being held that day. Hmm. What if I combined the two? And so I checked in with my coach who wanted me to answer two questions:
What pace would I normally run this long, easy training run at?
Would I be able to run more than 10 seconds faster per mile during the half marathon?
If I could do adhere to those conditions, the half marathon would be a great training opportunity for me. With that, I made a pro-con list which went something like this:
Pros:
I won't have to come up with a 15-mile course on my own.
There will be water stops. (No need to figure out where to plant water.)
I will be around people and energy.
I will be done early.
I will get a medal on my birthday.
Cons:
The entry fee.
Since I would be running for training and not for racing, my time would have a different meaning. People would see my results and judge me.
The pros outweighed the cons and confident I could execute a training run during a race, I went ahead and registered two two days before the half marathon. Mark, who also needed a long run, decided to register for the half, too. And so my birthday would start with about 5,000 people on the streets of downtown Buffalo.
There is a certain relief when you are participating rather than racing. I woke up excited rather than nervous. I cared about the run, but suddenly had no judgements. It was the most relaxed I ever felt on a race day. Perhaps this is the feeling I need to bottle for the rest of the summer.
Since my long run was 15 miles and completing two extra after the half marathon was completed sounded completely horrible, I parked my car about two miles from the start and ran over. At 6:15 a.m. it was already getting warm and the humidity was horribly high. This marked the first sunny, warm and humid days we've had in Buffalo this year. No one in Western New York has trained in these types of conditions meaning it was going to be a challenging weather day for a long run.
Just minutes before the start, I was lined up in the corral near the back of the pack, ready to trot my next 13.1 miles when I felt someone pinch my rear end. Luckily it was Mark, who said he learned his own valuable lesson – there is great benefit in getting to a race start early, rather than cutting it close and creating extra anxiety for yourself. I saw him for the two minutes it took for us to walk up to the starting mats and then he was gone.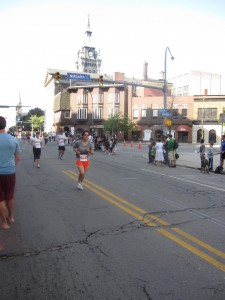 Closing in on the finish
My goal was to look at Garmin often to make sure I was running my pace. One of the most dangerous times to blow my pace is the beginning of a race, when I feel good and get caught up in the energy of the crowd. Of course, in certain areas of downtown, my Garmin had to battle interference from buildings, giving me false pace readings. Luckily, I knew this and just worked to keep a nice easy jog until the satellite readings became more accurate and consistent.