Less than a mile into my final run my core started to ache. I thought about leading with my heart center, breathing and relaxing. I let go of pace and just tried to work hard, yet the ache was still there. Maybe that last run up the hill took more out of me than I thought. Or maybe it was from laughing non-stop for the past three hours.
The inaugural Seneca 7 put me out of my comfort as my post from last week described. The race was a relay event to circle the 77.7 miles around Seneca Lake beginning and ending in Geneva, N.Y. Teams were comprised of seven members which rotated through the different run legs, each taking three segments. I was Runner No. 4 which means I ran legs 4, 11 and 18. I had no idea that the day would bring me such satisfaction both athletically and personally. Let me walk you through it:
Leg No. 4: Anthony Road Winery (Getting the fear out)
The van pulled into the Anthony Road Winery, the site of my first exchange and my first leg for our team. The 3.2-mile segment was described as "down and up" and I was nervous, which I announced to the entire van. I didn't dwell on why I was nervous, but the feeling of pre-race jitters this strong had eluded me for some time. In a way, it was good to have them back. My teammates encouraged me not to worry, to just enjoy running a beautiful morning. The weather was perfect – sunny with a few clouds and temperatures in the mid-40s expected to get into the mid-50s by the afternoon. Just enjoy the fact that you can do this, they told me. And so, I took the old-school slap bracelet from Alison (our team captain and organizer extraordinaire) and took off down the hill.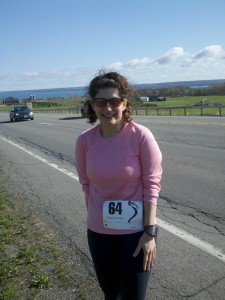 The view along the route and relief after finishing my first leg
Team vans were not allowed on this portion of the run, so I was out there alone. I wanted to run hard, but knew that I had three more segments to run, so thought about keeping a good, strong, even pace through the rolling course. I was passed by a handful of people and wondered just how bad my pace was. My Garmin was set to distance only, to give m an idea of where I was on the course, but was not showing pace. I didn't want to know. I wanted to work hard and have fun, not get caught up in the numbers. Anyway, other teams had runners of mixed ability, just like ours, so I let it go and just kept running.
The end of the leg was a hill with my exchange with our next runner, Alex, at the top. I saw Mary Lou, our driver and savior for the day, in the middle of the road, cheering me on. Then I heard the rest of my teammates cheering for me, giving me the extra motivation to dig in and get to the top. I handed off to Alex and accepted the round of "great jobs" by my teammates. I peaked at my Garmin average pace – I was running a pace that was about a minute faster than I had expected to. Rock on. I surprised myself with my run and the nerves were now gone, replaced with fun and excitement. Back to the van to reward myself with a small snack, drive to the next exchange station and cheer wildly for my teammates along the side of the road.
Leg No. 11: Clute Park, Watkins Glen (The hill)
As we drove to my next exchange point, I looked at the elevation profile of my next 3.7-mile segment. I knew it was described as