The weather forecast kept changing and each time I checked it got a little worse. But when my Android app for The Weather Channel said that the rain on Sunday morning would total 1/4 of an inch, I started freaking out. For a good half hour I let myself think that once again my training would be thwarted by bad weather. But I got myself under control. I can't do anything about the weather. All I can do is run the way I've practiced. Worrying about the weather is just wasted energy. Let's not sabotage myself. Mark and I got dinner from Wegmans in Corning, which was prepared for the onslaught of runners, welcoming us with a sign and having a case stacked with pasta bowls. After dinner, we settled in for the night watching Pirates of the Caribbean on television until I could no longer keep my eyes open.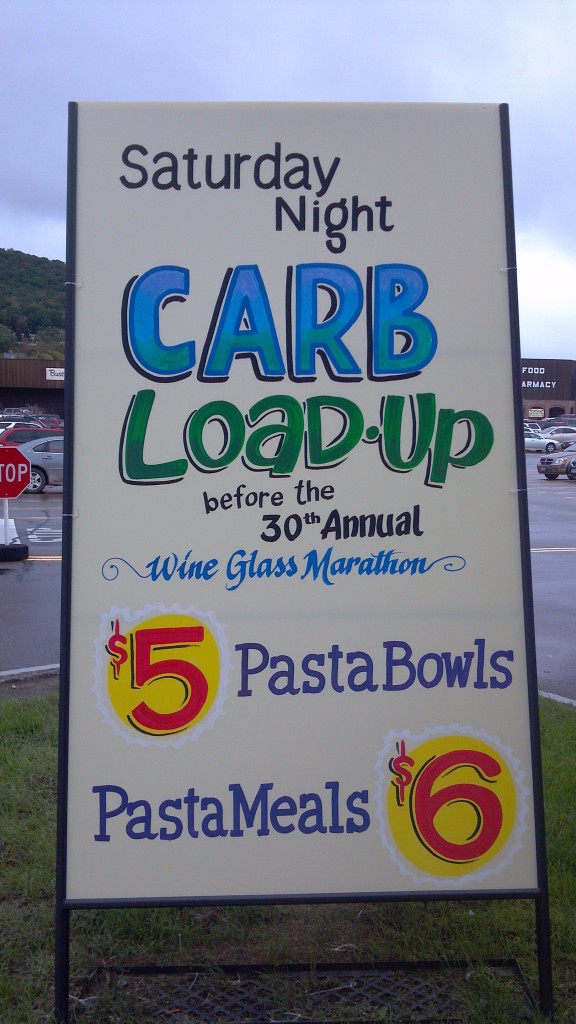 Wegmans has become my unofficial Training Table.
On race morning, temperatures were in the low 40s which wouldn't be so bad if weren't for the rain. The radar showed that it will definitely rain on the Wineglass Marathon but that it's coming in segments, not a total block of rain. Wait a few minutes and the rain will pass. That becomes my weather motto of the day.