The birthday weekend is not yet complete, thanks to the generosity of the universe in giving me a gorgeous three-day weekend and the love of family and friends. Full report yet to come but here's the skinny:
Saturday began with a 54-mile bike ride complete with a Garmin that stopped working and a surprise rain storm. But it finished with pancakes at the Village Diner in Youngstown, N.Y. with my parents. I highly recommend their strawberry pancakes: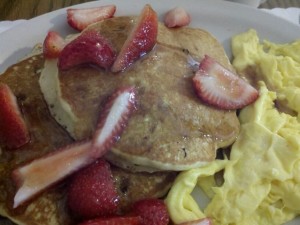 Nothing says good, hard ride like a stack of pancakes.
Then come Sunday, my actual birthday, and the surprise gift I gave myself – the Buffalo Half Marathon. Yes that's right. As a birthday gift to myself I did 13.1 miles of my 15-mile long run at the Buffalo Half Marathon. Under strict instructions to run it as a training run and at a long, easy training pace from my coach, I did exactly that. I was so excited I was all smiles at the end: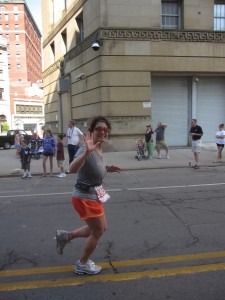 Hot and humid but feeling good, I give Mark a big wave just before the finish line.
Sunday afternoon brought my surprise birthday outing from Mark. We journeyed to the southern tier and went to Sky High in Ellicottville – a ropes and obstacle course. Though a bit fatigued from a big training weekend, once I got over my fears on the first few elements, I had a fantastic time and nearly mastered the zip lines:

Fast Tube by Casper
Welcome to Monday which featured a mildly hilly 40-mile ride with my friend Marit, who can kick my ass any day but was kind to me on this weekend.
Full details to come, but sunshine calls.