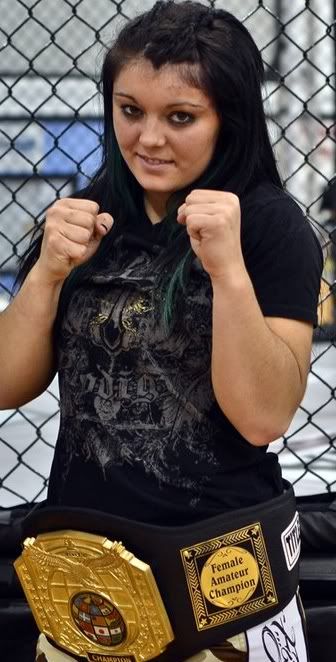 Absolute Action MMA has been a turning out some great fighters in the Kentucky area, and one fighter has been solidly delivering time in and time out.
Sarah Cook will be stepping to the promotion's cage for a 7th time to take on Gina Begley this Friday in Ft. Wright, KY; which will steam on Go Fight Live for $10.
We talked to cook about her distinguished amateur career and fighting for the Kentucky promotion.
—–
Wombat Sports: You are coming off a win Cassandra Walker last November. Have did the win feel?
Sarah Cook: That win felt awesome it was a much needed one, because as you know I was going into that fight coming off a 2 time loss, so to get that win was great for me. also it was a fight that i trained very hard for at son of siam which is a great gym that taught me so much.
Wombat: Looking at your past matches, do you feel you have grown a lot since fight #1?
Cook: Looking at my past matches, I can see that I have grown so so much. I'm not 100 percent because I can still learn so much more but to be honest no one is ever 100% in this sport because your never done learning new things.
Also, I was always a "Ground Girl" so to speak and to watch my fight and see how long my stand up was really let me know that I have improved and im only gonna keep improving in my career.
W.S.: The Ohio Valley seems to be a hotbed of female MMA nowadays. Looking at the talent in the area, what are your thoughts?
S.C.: My thoughts on the talent in the area are that me as a female fighter seeing the female side of this business growing is amazing because its proving that we can do what so many said couldn't be done. The females that really bust their butts to be the best are the one that's gonna open the eyes of the disbelievers and that's exactly what I'm aiming to do. I want to help women's MMA reach a whole new perspective.
W.S.:You have been a staple of AAMMA for the past few years. How has it been working with them?
S.C.: Working with Absolute Action MMA for me is like working with family. I love every single one of them and couldn't ask for a better promotion to work for. They always, always, always, have your best aspects for your career at heart they do everything they can to make you the best. Absolute Action MMA will always be home to me.
W.S.: What do you know about your opponent?
S.C.: I'm fighting Gina Begley and the only thing I can say about that is I know she's Muay Thai and a very good opponent. She trains hard and fights harder. She is one I very well respect and don't take lightly. She is one of the women who is gonna help change women's MMA.
W.S.: Anyone you'd like to thank?
S.C.: .I would love to thank first and formost my manager Billy Donovan, Parag Patel, Rob Turtle Whitson, Absolute Action MMA, AAMMA.net.
Also my sponsors Gotti Fight Gear, Cage Passion, my trainers – Kenny Warrix, Walker, my family, friends, fans, and would love to thank my amazing boyfriend Lance who pushes me to be the best I can be. He's been outstanding the last couple fights and keeps my head on track and always makes sure im training my hardest. I love you all. Thanks so much.
Filed under: MMA