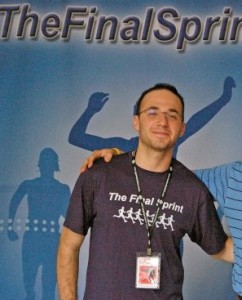 Adam Jacobs, CEO of TheFinalSprint.com
Today, I want to say a final goodbye to a friend and mentor, Adam Jacobs. Adam was the Editor-in-Chief of TheFinalSprint.com and CEO of the TFS Media Network. Just a few days ago, I received word from his mother that Adam passed away on May 22, 2009.
For those of you who don't know him, Adam was the mastermind behind an athletics blog network that consisted of his own running blog, TheFinalSprint.com, a women's health Web site, HerActiveLife.com, a men's health Web site called HesFit.com, and an outdoor Web site called TrailFit.com.
I met Adam during my junior year of college (2006). I was looking for an internship experience on CareerBuilder.com and saw an ad for a writer on TheFinalSprint.com. I applied for the job and later that day received a phone call from Adam offering me a spot as a featured writer. That phone conversation lasted for over an hour. Adam certainly didn't hold back – he wanted to know all about me, why I loved sports and what my career goals were.
I wrote for Adam that entire year, and loved the experience because he had dedicated readers were incredibly engaged.