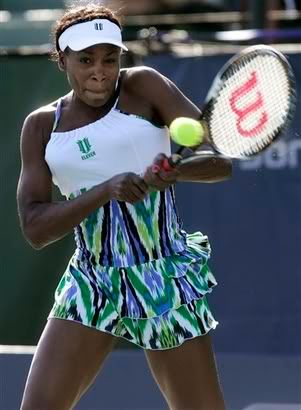 Serena and Venus Williams Winners in Stanford
Venus Williams defeated Stephanie Dubois 6-2, 6-3 in the opening round of the WTA Bank of the West Classic in Stanford.
Serena Williams, on the other hand, had to work for her 6-3, 7-6 victory over Li Na in the night match.
"It was a great match to get my rhythm, hit a lot of balls and work on my shots," said Williams. "It's all about the mentality. I usually adjust pretty quickly. I do want to try new and different things."
Venus and Serena grew up five hours down the freeway in crime-plagued south central Los Angeles and in an awkward moment at Tuesday's news conference Venus seemed to mistake upscale Stanford for their hometown.
"We love playing in L.A. I'm sorry, not L.A., I mean California. It feels like home for us," Venus said.
Na had her serve broken three times in the opening set but rallied in the tiebreaker from 6-2 down to level at 6-6. Serena won it on the seventh match point.
Serena rarely gives opponents credit in post-game talks preferring to discuss the high and low points of her own game. But she did manage to praised Na for the way she battled.
"I was playing a tough player who never gives up," Serena said.
"Obviously I can play better," she continued. "I think I hit five first serves in the whole match. I'm a little off. That's fine. I'd rather be a little off now than later."
Serena had seven double faults in the first set and at one point slammed her racket to the ground in frustration.
"I was too anxious and ready to go home," said Serena Williams.
Photo AP