We had just passed a sign which noted there were 103 miles left between our current location and the city of Boston. "See Mark. We are less than an Ironman bike away from Boston!" I said with a smile.
"Too bad we didn't bring your bike," he replied, not exactly mirroring my enthusiasm. Then again, not everyone subscribes to my Ironman relativism.
While I've always had an appreciation for spectators and support personnel, entering that part of the endurance event equation creates a new level of respect. From personal experience, I realize I am no treat around race day, and trying to offer support to others in the right ways and the right tone is an art form I have yet to master. But I try and do the best I can. And then realize there will be chocolate at some point, making all right with the world.
The Boston Marathon spectator experience began for me Saturday night when Mark and I arrived in the city and met up with his gang of friends.
First an explanation of the cast of characters:
Mark: My boyfriend, running his first Boston Marathon after hitting the qualifying time at Wineglass with zero seconds to spare.
Greg: Mark's friend who qualified for Boston at the Las Vegas Marathon after collapsing at the finish line.
Mary: Greg's wife, a runner and budding triathlete.
John: Mark's friend who did not qualify for Boston but is preparing for his first Ironman in Lake Placid this summer.
Dave: John's twin brother who coaches cross country in the Rochester area. Also not running the marathon, but when combined with John, provided hours of comic relief and cheap entertainment.
Donna: Greg's sister who made the trip from Florida. Also an incredibly strong runner with a quick wit.
Cassie: The 3-year old daughter of Greg and Mary who seems to love everybody. Good thing for me.
Saturday night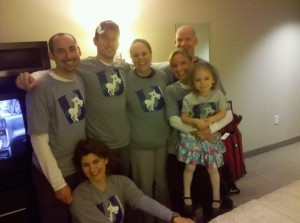 Team Unicorn
Ever since the Disney Marathon weekend, Mary and I had been secretly planning a surprise for the boys. We wanted to