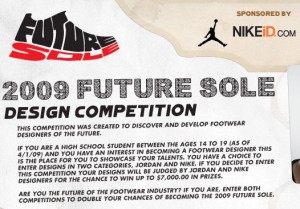 As a minority woman, recent college graduate and an aspiring sports journalist there is only one thing I am searching for; an opportunity.
This post is about opportunities for minority women in the sports industry, and it touches on a special sneaker design contest called Future Sole. While the registration deadline for this contest has already passed (6/1/09), there is still an opportunity for you to participate by voting for the winner. This post (hopefully) will give you reason to do so.
In order to paint the picture for how important this program is, I decided to share a little bit about my own life.
I posses a strong desire to make a name for myself in the sports communication industry, and by myself, I mean a strong African- American woman with a high passion for sports.