So how was your Thanksgiving Weekend? C and R's involved too much pie. For the Stanford Women's Basketball team, they were in beautiful Hawaii for the Waikiki Beach Marriott Rainbow Wahine Shootout. They also had to play their third ranked team in two weeks, the University of North Carolina. A team that was ranked #10, annd is tall and physical like Texas, yet could hit threes. Stanford fell 70-54.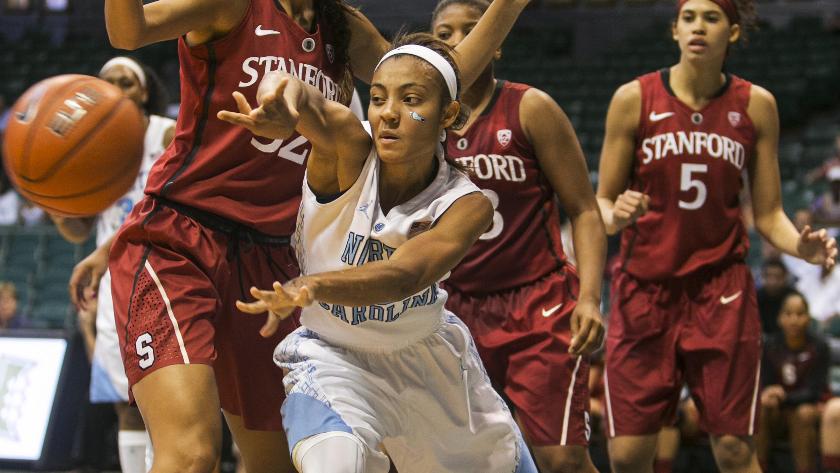 Stanford could not stop North Carolina (Photo-UNC Twitter feed) And while we didn't see the game (see pie excuse, possibly in pie coma), it sounds as if Stanford could not get an inside game going (like Texas). This is proving to be a huge problem. And also could not stop the other team from going down the middle. The box score is ugly. To be fair, Stanford held UNC to 24 first half points. To be brutally fair, Stanford only scored 18 in the same time period. Both teams shot dismally in the first, with the teams combined for 15-of-66 from the field (22.7%).
Let's hear it from Stanford head coach Tara Vanderveer's mouth:
"Our defense in the second half wasn't as good — our defense in the first half was better," VanDerveer added. "Our offense was very stagnant and we just need more people contributing. We don't have much of an inside game right now, which we have to work on. We weren't moving the ball as well as needed to and we were flat and we can't play that way."
Second Game vs. Host Hawaii:
Although Lili Thompson was the leading Stanford scorer in the UNC game with 15 for the losing cause, she found her Hawaiian mojo and led all scorers with 26 points in this one. She also shot 6-7 on threes. Stanford beat up on the host team 86-73. In case you didn't know, Lili spent part of her childhood in Hawaii and had some friends in the stands.
Stanford had four players in double figures. Guard Amber Orrange added 19 and Erica McCall added 11 points and grabbed nine rebounds. Freshman Kaylee Johnson added 10 points and eight boards. Again we didn't see this so can't add much but I know coach was happy with Erica's 11 as she played and scored inside more. However, one game against an unranked opponent doesn't' mean all problems have been fixed. Hope Stanford can build on this.
Third Game vs Prairie View A & M
The third game was against Prairie View A&M. Surprisingly, these two teams had never met. And PVA&M probably wished they hadn't. Stanford led 52-18 at the half, after falling behind and then going on a 23-0 run. Coach VanDerveer was in a Thanksgiving mood and let all 14 players play, and 13 scored at least 2 points.
Highlights in this one:
Erica McCall had 13 points and nine rebounds. Stanford shot 54.5 percent from the field, and was 11 of 18 on 3-pointers, and made 17 of 21 from the free throw line. Karlie Samuelson hit three of six 3-point attempts for nine points and Kaylee Johnson added eight rebounds, three blocks and two steals for the Cardinal. Bri Roberson had 12 points, a new career high. Freshie Brittany McPhee had a career high eight points in this one.
Stanford flies back to Cali however we don't see them until Dec 14 at Maples. I think the Stanford players have finals in that time frame, so best of luck to them.
For more on pie, follow C and R on Facebook and Twitter, too!
See the original post at C and R's Stanford Women's Basketball Blog http://womenssportsinformation.com/blog.html