This was supposed to be the grudge match. The Stanford Women's Basketball Team needed to avenge its only Pac-12 loss vs. Washington, and since Washington was coming to Stanford's house, no way were they going to let a loss happen again.
One thing you will get after beating a Tara VanDerveer team: the opposite game. Last game, against Washington's zone, Stanford was nine for 41 on threes or made just 21% of them. This game Washington stayed in the zone and Stanford shot 37% from behind the line, going nine for 24. Last game most of the threes came in the final two minutes when Stanford was furiously attempting a comeback that would end short. This game most of the threes came during runs of 11-0 during the first half and a on a 16-4 run to open the second and Stanford built a 30 point lead and never looked back.
Last game Stanford played uninspired defense that let probable Pac-12 Freshmen of the Year Kelsey Plum get 23 points. This game, well Plum got 21 but Stanford held her in check the first half and frustrated her all night. Stanford also held Washington scoreless for over six minutes in the first.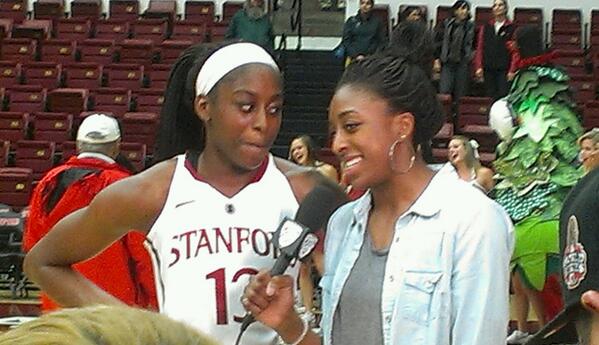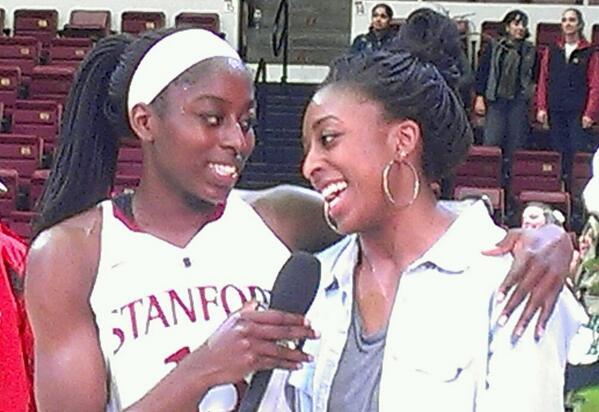 Chiney Ogwumike gets interviewed by sister Nneka, then turns the tables (photos courtesy of C and R's smart phones!)But one thing is a constant in a Stanford Women's Basketball game this year and that is the play of senior Chiney Ogwumike, who knows her time is finite. Plus older sis ands WNBA star Nneka Ogwumike was in the house and we know how inspired Chiney can get when Nneka is on or near the court to her.
Last game Chiney had trouble scoring against Washington's zone, and true to form, they doubled her most of the night. Chiney still scored 32 points and grabbed 11 rebounds for her 21st double-double of the season. She scored 21 points in the first half, leading Stanford to a 45-32 lead at half time. Chiney was four points shy of tying her career high. She also increased her career scoring total to 2,543, leaving her 87 shy of breaking former Stanford star Candice Wiggins' Pac-12 record.
Bonnie Samuelson added 14 points for Stanford, making four of seven from behind the three-point line. Freshie Lili Thompson had 11 while shooting three of six from behind the line. Fellow guard Amber Orrange added 10 points and four assists. Mikaela Ruef, who grabbed 22 rebounds last game, had a game-high 14 rebounds in this one.
Last game the score was 87-82, with Stanford on the losing end. This game, the score was 83-60. There was no way Stanford was going to let Washington score over 80 points again.
Nneka Ogwumike, who will be commentating for the Pac-12 Networks at the Pac-12 Tournament in Seattle, interviewed her sis after the game.
Last regular season game at Maples Saturday, and senior night for Chiney Ogwumike Sara James, Mikalea Ruef (who went through it last year) and Toni Kokenis, a former All-Pac-12 guard whose career ended as a result of concussions last season. Hope to see you there.
Follow C and R on Facebook and Twitter, too!
.See the original post at C and R's Stanford Women's Basketball Blog http://womenssportsinformation.com/blog.html