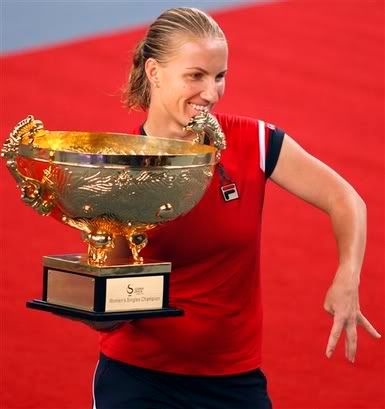 Svetlana Kuznetsova wins China Open title
Svetlana Kuznetsova defeated Agnieszka Radwanska 6-2, 6-4 ito win the China Open title in Beijing.
Kuznetsova needed just 1 hour, 20 minutes to complete her victory, racking up six aces along the way.
"I guess I just like to play here," Svetlana said. "I have some different luck here and definitely like the atmosphere. The support is great."
Kuznetsova has already qualified for the WTA Tour Championship in Doha at the end of the month, and said she will spend some time in Moscow practicing before arriving in the Persian Gulf a week early to acclimatize to the conditions.
"Normally I feel really tired at the end of the season, but now I feel great," she said.
Radwanska was playing in her first singles final since June 2008.
"Svetlana's been very good today, hitting hard every ball. I think also she had nothing to lose today," said Radwanska, who moves into the top 10 in the rankings following a successful two weeks in Japan and China, but is still chasing qualification for Doha.
"Of course it's better to win a tournament, but I'm still in the top 10 so it's not that bad," she said.
Article from Reuters
Photo Getty Images