The playground at my elementary school had a huge rectangle of blacktop which served as our kickball diamond and where we played the game "colors." See, in the far corner (away from the kickball diamond) was a map of the United States. The states were painted different colors and while one person called out a color everyone else had to scramble to a state that was painted that color. I don't quite remember the point of the game. It may have been similar to musical chairs where the person who didn't find a state was out. But then again, exact rules and winners weren't always the point.
Sure kickball games and winners and losers, but we played other games at recess. The girls in particular favored the swings and jump rope and by the time we reached fifth and sixth grade, both genders took to the far soccer fields for co-ed games which usually featured the giant rubber ball we used for kickball instead of a soccer ball. For the record, the results of a soccer game played with a giant rubber ball are vastly different from any you would get with a scheduled and sanctioned youth league game.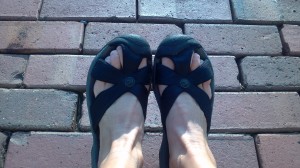 My feet and my Keen shoes are ready for some recess.
This was recess. It was 15 minutes of outdoor fun either before or after lunch (depending upon the school schedule for your grade that year). We went outside in all kinds of weather. The only time recess moved inside was in really horrible weather. But for the most, neither rain nor wind nor snow would keep us from our 15 minutes of playtime.