I would like to publically thank Peter Robert Casey for Tweeting back something to me that should be passed around to women's basketball advocates everywhere (haha he's going to laugh when he reads this).
So, to give you some background, I've been following Peter Casey for awhile on Twitter, mainly because we have common interests. He loves basketball. In fact, according to his bio, he serves as Director of Sponsorships and Business Development for the Entertainer's Basketball Classic at the legendary Rucker Park in Harlem, NY. (cool job)
Anyway, he's got some great commentary and is in the loop with everything geared toward social media and sports. (He's got 11,000 followers – pretty impressive).
Well, yesterday, he posted an article from Forbes which misogynistically lists America's Best Basketball Coaches, none of which coach WOMEN'S BASKETBALL.
So I replied to Peter, below:
This is what his response was.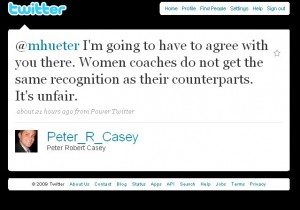 Peter, on behalf of women's basketball advocates everywhere, THANK YOU.
By the way, Peter's got a cool looking personal site (totally adds value to his personal brand) located here. Check it out. And follow him on Twitter – like I said, he's got some great commentary.