Of all the storylines heading into tonight's Boston University versus University of Vermont Frozen Four semifinal matchup, one has been overwhelmingly ignored: the fact that UVM's Viktor Stalberg and BU's Jason Lawrence are currently tied for fourth in the country in goals at 24 a piece, and are the last two players still playing this season from the top five in that list.
Whoever wins the battle tonight will have the opportunity to move into either second or third on that list, seeing that both MacGregor Sharp (26 goals) and Brock Bradford (25 goals) and their teams are no longer in the tournament. (Air Force powerhouse Jacques Lamoureux's 33 goals might be a tough target to hit for either Stalberg or Lawrence, but hey, stranger things have happened in two games.)
So who's going to win the battle tonight, come out ahead on the goal statistics and have the opportunity to add more goals to their stats on Saturday? To figure this out, I consulted with Cameron Frye, fellow hockey blogger, and professed fan of "The Swedish", and we each took our own positions on the topic. I will let Ms. Frye go first:
Cameron Frye on "The Swedish"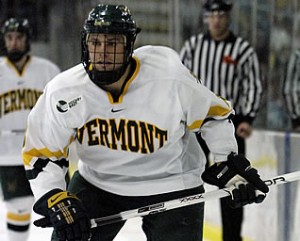 "The Swedish" Viktor Stalberg of the University of Vermont (Photo: HockeyEastOnline.com)
There's very few players that can go by one name and even less who's name can make a man shake in his skates. Viktor Stalberg is just that man. The junior from Sweden will be on the ice for the Frozen Four with his team mates from UVM and playing against the fancy lads of Boston University.
Through out the first two rounds of the tournament, players were doing whatever they could to get out of the way of the on coming Swedish Train the call Stalberg. He scored one goal and an assist against Yale and assisted on Lawson's OT game winner against Air Force. Add that goal and two assists to his totals and that will give him 24 goals, 21 assists, 45 points and 32 mins in the box. On Thursday, Stalberg and the rest of the Cats will be taking on the Terriers(could there be a less intimidating animal?), a team where he's scored 2 goals and 3 assist against. BU's Jason Lawrence and Stalberg are the last two top goal scorers left in the tournament and granted, Lawrence looks like a fancier version of Ad-Rock from the Beastie Boys (back during License to Ill