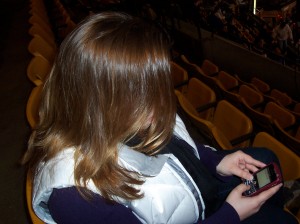 Your Crackberry addicted reporter reporting from the Garden last night with AWESOME HAIR.
We are back for Night #2 of the Hockey East Championship, where Boston University will be taking on the Riverhawks of UMass Lowell, the most improbable of opponents, in the championship game tonight.
Both BU and UMass Lowell advanced last night despite their frustrating inability to get a puck in the net – shots wide, shots too high, shots not high enough, all of the above. But both moved on, thanks to Northeastern taking a nap for 2 and a half periods (save for Thiessen, of course) and Boston College no longer having Nathan Gerbe (who did so much more for that team than I think we all realized.)
So I'll be updating away from the Garden again tonight, and then tomorrow, I will give a recap of Championship weekend, including the Annual Mascot Game and Intermission Jumbotron Trivia Fail.
…On Being a Sports Girl 2009 Hockey East Championship Live Blog