I am still working on the eagerly awaited first annual "Sports Girl Kat College Hockey Year End Awards", and in the meanwhile, have decided to share with you all one of my new latest fashion finds. (Me? Fashionable? Yes.)
Before it was even universally accepted, my casual wear has consisted of sports related shirts and jeans (or jean skirts when the weather obliges.) Thankfully, instead of wearing super large, nearly dress like football jerseys or t-shirts, many lines have come out that cater to women like me. I featured one back in January (CPR Gear) and am featuring yet another one today – Vintage Blue.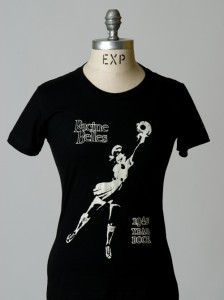 "Dottie" a t-shirt by Vintage-Blue
Vintage Blue is a female owned company out of Philadelphia (but with Boston ties – owner Liza Gonclaves was raised in Boston) who hold the exclusive license to The All-American Girls Professional Baseball League images and team names. If you have seen the movie A League of Their Own (and really, who hasn't?) you know of the AAGPBL, which was the first professional sporting league for women in the 1940s. While a large portion of America's men were overseas in the World War II effort, women's baseball took the place of men's baseball to provide sports fans with professional baseball to watch.
Vintage Blue creates t-shirts and tote bags with images from this classic and unique time in baseball history, all cut quite fashionably. These shirts make kind of-sort of tomboy me look like I actually tried to look awesomely cool.