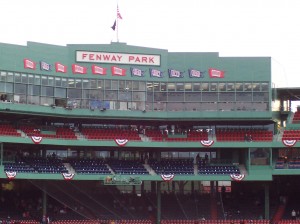 So are they playing a college hockey game here or not? (Picture by yours truly. Yes, I can take good photos once and a while.)
Remember when I noted that Denver's men's ice hockey schedule release may have squashed rumors of a college game being a part of Fenway Park's all-but-confirmed Winter Classic festivities? Well, the Boston Globe's Kevin Paul Dupont may have revived those rumors by claiming that a source close to the organizers are looking to have the ice system down for three weeks of use, and are looking to schedule a college tournament within that time.
Dupont went on to mention that any official announcement about all of the Winter Classic would most likely take place near the beginning of July.
These new details would seemingly make a Boston College-Boston University game a possibility, because of the length of time the ice will be available. BC could still keep their commitments to the Denver Cup on New Year's Day, while still having time to fit in an outdoor game against BU.
I'll keep my eyes out for any additional clues.
********
Belated congratulations to the Stanley Cup Champion Pittsburgh Penguins. Marc-Andre Fleury definitely proved his worth as a goalie on Friday evening (he actually made an acrobatic save in those final seconds – who knew?)
On the Everyone's Favorite Goalie Watch, John Curry did dress for Game 7, but his name does not get engraved on the Cup, and thus he was not allowed to carry it because of superstition. Until your name is on the Cup, you are not allowed to touch it as a hockey player. He was still spotted on the NBC broadcast wearing the nifty locker room hat though.
Speaking of locker-room hats, Puck Daddy posted a great feature on the conceptualization and production of NHL championship fan wear on Saturday. Those of you as obsessed with fan wear as I will geek out over the detail.
And a special congrats to the Pens fans at Puck Huffers (NSFW), who titled their championship post, "Our Curry in Heaven," and part of their dedication to disappointed and bitter Detroit fans read:
It's time for you to put your hands towards the sky and pray for redemption. It worked for us.
Then again, John Curry is God.
It's clear I've been outdone. I think they might need to take over the "Everyone's Favorite Goalie" posts.