It's the first day of September and that means two things for me:
Frantically checking that my parents' wedding anniversary is indeed on Sept. 2 so I didn't miss it. (Check. It is indeed tomorrow.)
Back to school.
While it has been many years since I've "gone back to school," the beginning of September feels like a new start. In my world, I get three to celebrate new beginnings – New Year's, My Birthday, and Back to School. Yes, I was one of those kids who loved school. I used to admit that only shyly, almost apologetically. But now I own it: I love learning and I loved school. And while I may not be sitting in homeroom every morning, I still see September as a time to shift my focus a bit. I tackle different types of projects. I read different kinds of book. I turn bit more "academic" so to speak and look for new ways to expand my knowledge, whether it's a formal class, workshop or lecture or something as informal as finally finishing Doris Kearns Goodwin's epic No Ordinary Time; Franklin & Eleanor Roosevelt: The Home Front in World War II.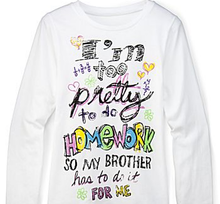 "I'm Too Pretty To Do Homework." Really?
So I had to shake my head when my brother's Facebook page pointed me toward a t-shirt on sale at J.C. Penny's which reads: "I'm too pretty to do homework so my brother has to do it for me." According to a blog on The Village Voice, The sales pitch with the tee reads, "Who has time for homework when there's a new Justin Bieber album out? She'll love this tee that's just as cute and sassy as she is."
Um. Really folks? Really?