We are at an interesting time in the 125 division with the UFC signing fighters to compete at 135, and Bellator releasing their flyweights. We consider this the most underrated division in all of the sport; and if it is true the UFC is looking at strawweight next, it would be a shame to deny these gals to fight at a competitive weight.
Here is our lengthy list of prospects.
Eye
—–
Pro Prospects
Jessica Eye (10-1)
The current #2 in the division made a lot of waves defeating Zoila Gurgel late last year. She was just released Bellator, which now frees her to fight at InvictaFC (if Eye doesn't get signed to the UFC). With a 10-1 record and a solid fan base, either organization would be more than happy to have her.
—–
Gaff
Sheila Gaff (10-6)
Gaff wasn't successful going up in weight at the UFC, suffering back to back losses to get cut by the promotion. Before she headed to the UFC, Gaff had three straight first round finishes at flyweight, all under 94 seconds.
—–
Tonya Evinger (11-6)
Evinger is a veteran of seven years, and her decision to drop from 135 to 125 seems to have been successful. She is on three fight win streak and has notable wins over Julie Kedzie and A.J. Jenkins. The collegiate wrestling standout is rumored to be a part of the upcoming "Ultimate Fighter", but being told she is open to fight anywhere.
—–
Kalindra Faria (11-3-1)
The current finalist for the first ever Super Hereos MMA flyweight title, Faria has won her past 7 fights, with the last three by submission. She defeated Carina Damm in her last fight, and took current InvictaFC signee Jennifer Maia to a draw.
—–
Ould
Michelle Ould (7-3)
Currently on a three fight win streak, the ground specialist has wins over Munah Holland and Jessica Rakoczy. She is currently battling some medical issues, but the hope is she gets better soon to get back in the cage.
——
Berezikova
Julia Berezikova (7-4)
Seven year veteran of the sport, Berezikova has wins over Megumi Yabushita and Milana Dudieva. She was on a six fight win streak before losing a decision to Joanna Jedrzejczyk.
——
Bethe Correia (6-0)
Training with Bellator fighters the Pitbull Brothers in Brazil, Correia has racked up an undefeated 6-0 record. She defeated Erica Paes in her previous win. Paes is the only person to beat Cyborg Justino.

——
Munah Holland (5-2)
Free of her Bellator contract, many foresee Munah Holland making to her way to Invicta. Holland got back to back KOs before losing to Michelle Ould at Bellator. This current #7 ranked flyweight fighter is looking to get into title contention.
——
Nina Ansaroff (5-3)
After a rocky start to her pro career, Ansaroff has found new training at MMA Masters and finds herself on a four fight win streak withg all four wins finishes. Her most recent win saw a spectacular knee to the body KO in Brazil.
——-
Ericka Almeida (5-0)
Never seeing the second round, the undefeated Almeida has subbed four of her five opponent as a pro; all in the first round.
—–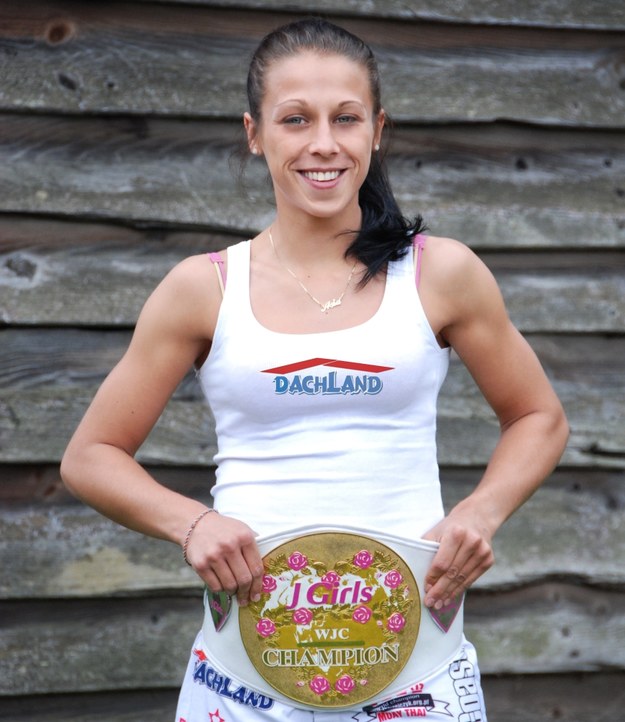 Jedrzejczyk
Joanna Jedrzejczyk (4-0)
The undefeated Polish fighter is coming off a decision win over Julia Berezikova in Berezikova's home country of Russia. She has first round arm triangle choke to her credit, and she has no sign of slowing down.
——-
Brenda Gonzales (4-1)
The King of the Cage vet has seen her get three wins by TKO. She went up in weight in her last fight versus Rin Nakai and lost, but Gonzales still is a highly touted prospect.
——
Sarah Alpar (4-2)
Having lost to the above mentioned Gonzales and to XFC fighter Heather Clark, she has decision wins over Joeclyn Lybarger and Monica Lovato.
——
Karolina Kowalkiewicz (3-0)
Another Polish fight to look out for, Kowalkiewicz has finished two of her three opponets. She trains out of Gracie Barra and has soon skills both on her feet and on the ground.
—–
Audrey Alvarez (2-0)
Our twitter following recommended Alvarez, who is currently 2-0 as a pro and has yet to taste defeat in all her fights. She has a notable win over current pro fighter Amber Stautzenberger.
—–
Dugas
Ammy Prospects worth mentioning
Brittany Dugas (7-0) – Having fought most of her ammy career at 135, Dugas stated she will be dropping to 125 when she turns pro in her next match. Already in InvictaFC's radar, she has notable wins over Susie Wyatt and Katy Collins.
Heather Bassett (5-2) – The Wisconsin native will make her pro debut later this month at King of the Cage against Breea Gilbert. She is on a three fight win streak.
Amanda Bobby Cooper (8-3) – Sharpening her teeth for the past three years as an ammy, she has finished in all her victories. She has won four straight.
Brenna Larkin (6-0) – The current Tuff-n-nuff flyweight champ is one of the many talents out of Arizona that are making waves quick. She has a win over current XFC title conetender Cortney Casey.
Calie Cutler (4-1) – The submission specialist has finished all but one of her victories by that fashion. Her only loss was to ….
Joann Nguyen (3-0) – Nguyen has finished all her opponents, her first two in the first round.
Amberlynn Orr (3-1) – Having lost her first fight, she is on a three fight win streak
Katy Collins (6-3) – After back to back losses to Kathina Catron and Brittany Dugas respectively, she has won four straight and is the current ShoFights flyweight champ.
Filed under: MMA