If you are a track fan, I'm assuming you since you are reading this blog, this past week was jam packed full of action. The Drake Relays began the week with their road mile and Payton Jordan Invitational ended the weekend with plenty of fast distance times. Don't forget the Penn Relays where we saw how the U.S. stacks up against the world. Check out the rest of results below.
Drake Relays-I've heard a native Iowan describe the Drake Relays as having great atmosphere, bad weather and decent times. In fact that cold weather led Lolo Jones to scratch. Sara Hall won the Grand Blue Mile in a time of 4:45 barely edging out Heather Kampf (4:45). Amy Mortimer (4:47) and Heidi Dahl (4:50) rounded out the top four. Jen Suhr won the pole vault (which takes place inside a mall) in a vault of 4.65m and taking the Drake record. In the 100 meter hurdles Kristi Castlin took the win in 12.76 followed by Nia Ali (12.83) and Angela Whyte (12.97). 1500 meter World Champion returned to the track to take the win in the 1500m with a time of 4:12.95 followed by Maggie Infield (4:13.24) and Heather Kampf (4:12.25). Chaunte Lowe won the high jump in 1.98m followed by Amy Acuff in 1.85m and Liz Patterson in 1.80m. Kara Patterson, the top American in the javelin, threw a meet-high 185 feet, 7 inches.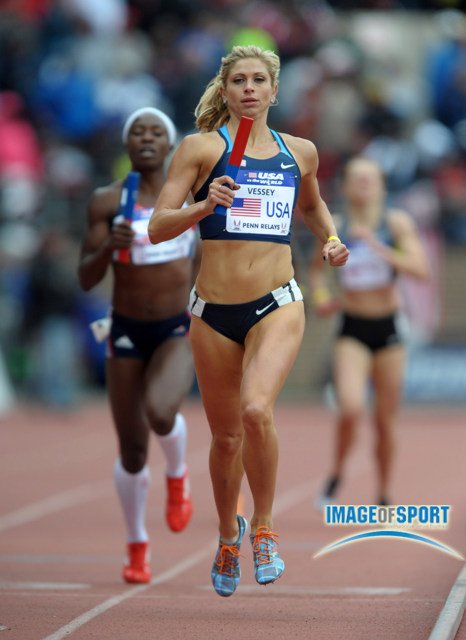 Penn Relays-The USA women won the sprint medley relay, the 400-meter relay and the 1,600-meter relay. Allyson Felix teamed with Tianna Madison, Bianca Knight and Carmelita Jeter to set a Penn Relays record in the 400 with a time of 42.19 seconds to win over the Jamaica team (43.31). Felix also was on a relay with Francena McCorory, Natasha Hastings and Sanya Richards-Ross that set the mark in the 1,600 with a time of 3 minutes, 21.18 seconds to win over Jamaica (3:26.55). In the sprint medley relay the team of Porscha Lucas, Barbara Pierre, Phoebe Wright and Maggie Vessey took the won in 3:42.85. The American women trailed until Vessey made a perfectly timed pass to get by Great Britain. Molly Beckwith after a great 800 meter win last weekend came back to win the mile in 4:36.71.
Payton Jordan Invitational (videos here)- The Payton Jordan Invitational is known for capability of achieving A standard times in distance events. Morgan Uceny had a resounding win in the 800 meters with a time of 2:02.46 over Andrea Ferris (2:03.62) and LaTavia Thomas (2:03.90). Anna Pierce proved that she is back on the comeback trail winning the 1500 meters in 4:07.00 over Brenda Martinez (4:08.66) and Hilary Stellingwer (4:08.76). Colorado's Shayla Kipp won the women's steeplechase in 9:43.09 followed by Delilah Dicrescenz (9:43.28) and Beverly Ramos (9:46.69). 2011 World Championships silver medallist at 10,000 Sally Kipyego won in the 5,000 meters in 14:43.11 out pacing the field by over 15 seconds. A pair of Julies was second and third. Julie Lucas was second in 15:08.52 and Julie Culley was third in 15:13.87. Betsy Saina running unattached won the 10,000 in 31:15.97 after Lisa Uhl ran aggressively for the first 8.5 laps. Fourth place USA trials marathoner, Amy Hastings finished second in 31:19.87 followed by Ireland's Fionnuala Britton in 31:29.22. Deena Kastor finished in seventh with a time of 31:49.23.