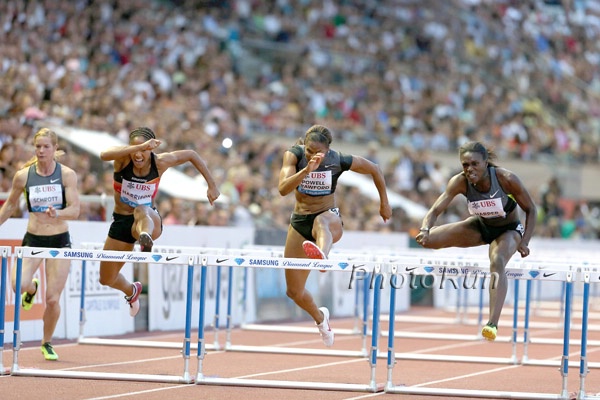 The post-Olympic track season is slowly inching to an end and this past week featured two great meets. Both the 2012 Lausanne Diamond League meet and 2012 Birmingham Diamond League meet featured Olympians riding out their peak fitness.
2012 Lausanne Diamond League (video here)-Carmelita Jeter got the best of Shelly-Ann Fraser -Pryce (10.16) and Kelly-Ann Baptiste (10.93) winning the 100 meters in 10.86. Shannon Rowbury (8:53.79), Kim Conley (856.53) and Jenny Simpson (9:08.78) switched up distances and ran the 3000 meters. All were far behind the leader Mercy Cherono who won in 8:40.59. Dawn Harper won the 100 meter hurdles in 12.43 and was followed by Queen Harrison (12.62) and Ginnie Crawford (14.64). Michelle Carter was the runner up in the women's shot put with a throw of 19.60 to Valerie Adams who won in 20.95.
2012 Birmingham Diamond League (video here)-Carmelita Jeter continued her winning ways taking the 100 meters in 10.81 over Shelly-Ann Fraser-Pryce in 10.90. Alexandria Anderson was third in 11.22. The women's 400 meter was won by Rosemarie Whyte in 50.20. Christine Ohuruogu was second in 50.67 and Francena McCorory was third in 51.00. Maggie Vessey was fourth in 800 meters with a time of 2:02.01. The winner of the race was Mariya Savinova in 2:00.40. Anna Pierce won the 1500 meters in 4:11.33. Laura Weightman was second in 4:11.79 and Hilary Stellingwerff was third in 4:11.94. Jen Suhr followed up her gold medal performance with a vault of 4.65. Oregon Project's newest edition Tara Erdmann finished 12th in the 3000 meters in a time of 9:11.59.