The opening ceremonies are Friday which means the European track season is coming to a hiatus. For many this means going back to training and for a few select other it means heading over to the Olympic village. These last chance track meets will give us a glimpse of how athletes are looking heading into the Olympics.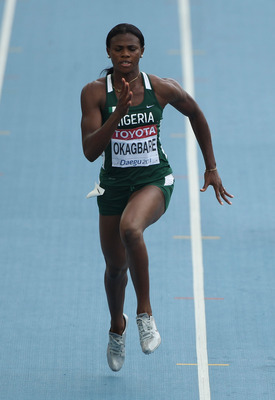 2012 Monaco Diamond League Herculis– Nigeria's Blessing Okagbare is looking sharp heading into the Olympics winning the 100 meters in 10.96. Tianna Madison (10.99) and Jeneba Tarmoh (10.09) were second and third. In the women's 800 meters Russian's Elena Kofanova took the win 1:58.41. Alysia Montano was third in 1:59.05 and Molly Beckwith ran another sub 2:00 with a time of 1:59.75 for fourth. Caster Semenya was ninth in 2:01.67. Kenya's Mercy Cherono won the 3000 meters in 8:38.51. Shannon Rowbury finished strong fourth in 8:39.83. Gabrielle Anderson hit another PR with a time of 8:43.52. Julie Culley (8:45.57) and Jenny Simpson (8:48.72) were tenth and eleventh. Zuzana Hejnova took the win in the 400 meter hurdles (54.12) followed by Lashinda Demus (54.26) and Jamaica's Melaine Walker (54.44). Stephanie Brown Trafton was fourth in the discus with a throw of 63.70.
Morton Games– Nicole Schappert won the women's mile in a meet record 4:30.65. She followed by Australia's Zoe Buckman ( 4:30.86) and Gen LaCaze ( 4:32.19). U.S. steeplechasers Emma Coburn finished fifth( 4:33.24) and tenth Shalaya Kipp ( 4:40.31) in this tune-up. Gabriel Anderson won the first heat of the women's 800 meters with a 2:02.99. Canadian Olympian Melissa Bishop had the fastest time in the second heat with a time of 2:01.80 . Katie Mackey was fifth in 2:03.86.